Small bank loaned Trump $225m to fund presidential run – WaPo
Trump was dropped by his previous lenders in the wake of the January 6 riots at the US Capitol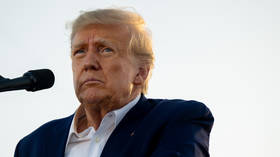 Axos Bank, a little-known, online-only financial institution whose CEO is a Donald Trump donor, approved $225 million in "crucial" loans to the ex-US president. The finance was to help boost his 2024 presidential run and his ailing businesses after his former longtime lender cut ties with him, the Washington Post reported on Thursday.
"It was crucial that someone gave [Trump] credit or he could have loans going into foreclosure," financial analyst Bert Ely told the newspaper. "And that was also an important factor for him politically."
According to the Post, the bank extended a range of financial loans to Trump one day after he was dropped by his longtime accounting firm Mazars in the wake of the January 6 riots at the US Capitol in Washington, DC. In doing so, Mazars warned other institutions to be wary of Trump's "statement of financial condition" - a declaration often used to determine a borrower's ability to repay a loan.
Apparently undaunted, Gregory Garrabrants, the CEO of Axos Bank and a frequent Republican donor, signed off on a $100 million loan to be used for Trump Tower in New York City, the 58-story skyscraper that was the former president's primary residence until 2019, WaPo reported.
Three months later, Garrabrants authorized a second loan of $125 million, which was used to help finance parts of Trump's Doral golf resort in Florida, which he first purchased in 2012, according to the report.
Furthermore, Axos also part-financed a loan taken out by a group of investors for the $375 million purchase of Trump's Washington, DC hotel last year.
Following its review of disclosure records and other financial documents related to Axos' loans to Trump, the Washington Post determined that the cash injection was crucial to stabilizing the former president's post-White House finances. The loans were also, the newspaper said, a crucial factor in establishing a financial foundation from which Trump could launch what is now his third presidential campaign.
The ex-president, 77, is currently leading the Republican polls to be the GOP nominee in 2024.
However, the extensive financial loans come with a catch: far less lenient repayment terms, at least compared to more standard financial lenders. "I assume the only reason Donald Trump was willing to put up with it is because no one else was willing to make a loan," Edward Hemmelgarn, a financial expert and president of Shaker Investments, told the Post.
And when asked by the newspaper if he was concerned about Donald Trump's history of multiple bankruptcies, Garrabrants responded: "All I can say is that, if people don't pay, I take their stuff."
You can share this story on social media: