West 'afraid' of truth about Ukraine's treatment of Christians – Russian diplomat
Moscow's envoy to the UN has condemned Britain for blocking a persecuted Ukrainian bishop from addressing the Security Council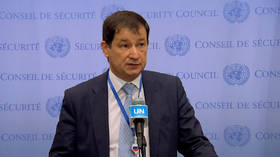 Britain's move to block Bishop Gedeon from testifying before the UN Security Council about the persecution of the Ukrainian Orthodox Church by Kiev was "scandalous and shameful," Russia's deputy head of mission Dmitry Polyansky said on Wednesday.
"They were afraid of this man, they were afraid of the facts that he could cite, of his own personal experience of persecution by Ukrainian authorities," Polyansky told RT.
Presiding over the UNSC, British diplomats used procedural votes to block Bishop Gedeon's testimony because he could have delivered "a number of very awkward facts" for the government in Kiev and its Western sponsors, according to the Russian diplomat.
"They just try not to see what's really happening on the ground in Ukraine," Polyansky said.
The Security Council held back-to-back meetings on Wednesday. The first, requested by Russia, was supposed to address the "crackdown of the Kiev regime on Orthodox Christianity in Ukraine." President Vladimir Zelensky's government has led attacks on the Ukrainian Orthodox Church (UOC), which they accused of being "pro-Russian" due to its historic and canonical ties to the Russian Orthodox Church. The authorities and activists have been seizing UOC's temples and handing them over to the government-backed Orthodox Church of Ukraine (OCU).
The UK, which presides over the council this month, decided to call another meeting right afterward, requested by Ukraine over the recent Russian missile strikes on the Black Sea port city of Odessa. The British chair then announced that Bishop Gedeon would not be given a say at the first meeting, citing "a lack of time."
Polyansky objected, saying that Russia had agreed to the second meeting on the understanding that its briefers would be allowed to speak at the first one. By censoring the bishop, "Western delegations actually expressed solidarity with the repressive policy of the Kiev regime against [the] canonical Orthodox Church," he added, noting that the US and its allies seem committed to free speech only when it comes to "prejudiced pro-Western NGOs."
In protest to Britain's actions, Polyansky refused to participate in the second meeting. The Russian Permanent Mission to the UN has since published online the testimony Bishop Gedeon intended to deliver.
You can share this story on social media: