British bank chief resigns over Farage scandal
NatWest's Alison Rose leaked the Brexit politician's financial affairs to a BBC journalist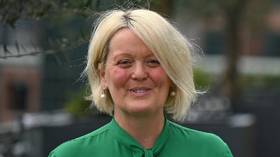 Alison Rose announced on Tuesday that she will step down as CEO of one of Britain's largest banks, NatWest, after she told a BBC journalist that Brexit leader and UK Independence Party (UKIP) founder Nigel Farage was dropped by one of her bank's subsidiaries for having insufficient cash. In reality, Farage's accounts were canceled over his political views.
The politician, now a TV pundit for GB News, revealed last month that he had been refused service by Coutts, a subsidiary of NatWest tailored to wealthy clients. Farage said that he was dropped as a customer over his political opinions, but the BBC reported that Coutts had let him go for "commercial" reasons – meaning he couldn't reach the £1 million ($1.3 million) wealth requirement set by the bank.
However, Farage obtained an internal document showing that the bank had pored over his political positions – including his opposition to immigration and criticisms of 'Black Lives Matter' – and deemed him incompatible with Coutts' "values."
Neither NatWest nor Coutts have disputed the authenticity of the document.
Rose was revealed as the BBC's source in a report by The Telegraph last week, and resigned late on Tuesday night. In a statement, she confirmed that she falsely told BBC Business Editor Simon Jack "that the decision to close Mr Farage's accounts was solely a commercial one."
Rose also apologized to Farage for "the deeply inappropriate language" in the paper describing his political outlook. However, she stressed that she was not involved in the decision to close the former UKIP chief's accounts.
The document described Farage as someone who "is seen as xenophobic and racist" and a "disingenuous grifter." It stated that his views are "distasteful and appear increasingly out of touch with wider society," and cited his friendship with former US President Donald Trump as a potential "reputational risk" to the bank.
Farage described the paper as a "Stasi-style surveillance report" that "reads rather like a pre-trial brief drawn up by the prosecution in a case against a career criminal." Speaking on GB News on Wednesday, Farage described Rose's resignation as "a start," and called on the entire NatWest board to resign, as it had approved an earlier statement by Rose in which she claimed not to have revealed any of his "personal financial information."
"It is right that the NatWest CEO has resigned," Treasury Minister Andrew Griffith said in a statement on Wednesday. "This would never have happened if NatWest had not taken it upon itself to withdraw a bank account due to someone's lawful political views. That was and is always unacceptable."
You can share this story on social media: