Hungary may leave EU – former banking chief
Budapest and Brussels have clashed on migration, morality, and the conflict in Ukraine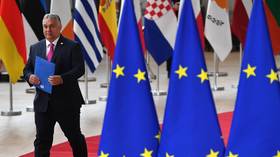 Leaving the European Union may soon become "a real alternative" for Hungary, the former governor of the Hungarian National Bank claimed in a television interview on Sunday.
Speaking on Hungary's ATV network, Andras Simor said that while a Brexit-style departure from the bloc is an unlikely scenario, "it is a possible one."
"It's probability," he explained. "If it was 10% last year, by now it has risen to 20%, to 30%."
Citing the country's rising inflation rate and the EU's withholding of $30 billion in funding to Budapest, Simor stated that he is "afraid that Hungary's government will maneuver the country into a situation where an exit from the European Union becomes a real alternative."
Although Hungary is a net beneficiary of EU aid, much of this assistance has remained frozen for several years, with officials in Brussels citing Prime Minister Viktor Orban's hardline anti-immigration policies and alleged crackdown on judicial independence and media freedoms as reasons for the holdup.
While Orban's government successfully gained access to some of this money by lifting a veto on EU economic aid for Ukraine last year, the Hungarian PM has continued his criticism of the bloc's support for Kiev. Orban has repeatedly called for an immediate ceasefire in Ukraine, and accused "pro-war Brussels bureaucrats" of stoking conflict with Russia "at the expense of European interests."
Orban's disagreements with the EU go beyond the realm of geopolitics. Speaking at a youth event in Romania on Saturday, he declared that the bloc "rejects Christian heritage, carries out the replacement of its population via migration… and conducts an LGBTQ offensive" against conservative societies.
Despite his regular broadsides against Brussels, Orban has repeatedly dismissed the idea of leaving the EU. Polls taken since the 2016 Brexit referendum have consistently found high public support for staying in the bloc, although a recent Eurobarometer survey recorded a 12-point drop in those with a "positive image" of the EU, with only 39% now viewing the union favorably.
You can share this story on social media: