Major blast rocks South Africa's largest city
A suspected gas explosion left a huge sinkhole in the central business district of Johannesburg, with multiple injuries reported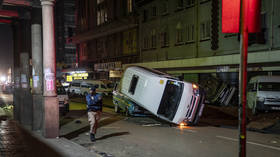 Several people have been injured following a suspected gas pipeline explosion in central Johannesburg, South Africa's largest city. The underground blast left a huge sinkhole on the street, damaging and overturning multiple cars.
Footage from the scene shows a deep crack in the ground, with vehicles scattered along the street in the city's central business district.
The incident left at least nine people injured, according to local authorities. "Medics set up a triage area a safe distance away while Fire and Disaster Services evacuated the general area," said ER24, an emergency medical service.
"Initial reports from the scene showed that several people had sustained minor to moderate injuries. The patients were treated for their injuries and later transported by various services to nearby hospitals," it added.
The Johannesburg Metro Police Department urged citizens to avoid the scene of the blast, closing the area to traffic, which had already been brought to a standstill by the explosion.
An underground gas pipeline is believed to have been the source of the explosion, and a strong smell of gas was reported at the scene even after the blast. However, there is some doubt as to whether there was an incendiary explosion or whether the road was burst open by abnormal underground pressure of another type.
Local gas operator, Egoli Gas, insisted its network was not involved in the incident, urging the public not to make any assumptions about the nature of the blast.
"Our network has experienced no pressure loss, which indicates the gas pipelines are intact. Our customers in the area continue to receive gas uninterrupted," the company said in a statement.
"Initial reports have shown the collapse in the road to be mainly in the center. Our gas pipelines are located in the road servitudes on the sides of the road. Our teams are on site investigating for any gas leaks, they have found none so far," it added.
You can share this story on social media: