Top US general weighs in on 'cost' of Ukraine's counteroffensive
Chairman of the Joint Chiefs of Staff Mark Milley has claimed that Kiev's push against Russian forces is "far from a failure"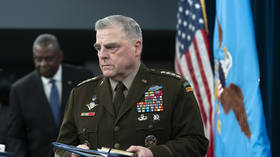 America's top-ranking general isn't ready to concede Ukrainian forces have failed in their counteroffensive against staunch Russian defenses, saying he had expected all along that the operation would be bloody and protracted.
"They're in the early stages, and it's far too early to make any definitive assessments," Chairman of the Joint Chiefs of Staff Mark Milley told reporters on Tuesday after meeting with European allies in Brussels.
"I think there's a lot of fighting left to go, and I'll stay with what we said before: This is going to be long, it's going to be hard, it's going to be bloody," he added.
Kiev launched its long-delayed counteroffensive in the Donbass region last month, but Ukrainian forces have so far failed to breach Russia's defensive lines. As of last week, they had lost over 26,000 troops and hundreds of armored vehicles, including Western-supplied tanks, according to the Russian Defense Ministry.
The New York Times reported on Saturday that after losing up to 20% of the weaponry deployed in the counteroffensive in just two weeks, Ukrainian President Vladimir Zelensky had paused the operation to shore up ammunition.
Asked whether the counteroffensive had been a defeat so far, Milley said, "It is far from a failure. I think that it's way too early to make that kind of call."
US Secretary of Defense Lloyd Austin agreed, saying, "This will continue to be a tough fight, as we anticipated, and I believe that the element that does the best in terms of sustainment will probably have the advantage at the end of the day."
Milley claimed that Ukraine's military is making "steady progress," but with hundreds of thousands of Russian troops deployed in defensive positions, "this is a very difficult fight. It is a very violent fight, and it will likely take a considerable amount of time at a high cost."
US President Joe Biden's administration has vowed to continue providing billions of dollars' worth of weaponry as long as it takes for Ukraine to defeat Russia. Critics of that policy, including several Republican lawmakers, have argued that Washington is waging a proxy war with Russia and prolonging the bloodshed for the Ukrainian people.
You can share this story on social media: