Almost 600 wildfires 'out of control' in Canada
The country has already recorded its worst year in terms of scorched forestland area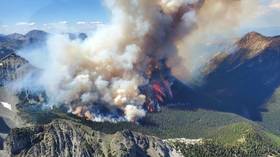 The number of wildfires in Canada classified as "out of control" is approaching 600, according to a national monitor. The country is experiencing its worst wildfire season in decades.
According to the Canadian Interagency Forest Fire Centre (CIFFC), there were over 900 active wildfires in the country on Monday, with 599 of them labeled out of control. Another 104 were "being held" by firefighters, while 204 were considered under control.
British Columbia is the worst-affected province, accounting for a third of active fires, according to CIFFC statistics. The blazes have devastated 10.7 million hectares (26 million acres) nationwide during this fire season, with over 4,200 outbreaks reported this year.
The area is the largest since the monitor started compiling statistics in the 1980s. The previous record was set in 1995, when over 7 million hectares (17 million acres) burned out in Canada.
The situation has been worsening since mid-May, when the national preparedness level was raised to its highest possible point for the first time in 2023. Last year, Ottawa avoided any similar mobilization of forces to deal with forest fires.
Earlier this month, smoke from Canada traveled south and blanketed parts of the US in a thick haze. New York was listed as the city with the worst air pollution in the world, as fumes covered the east coast.
You can share this story on social media: