Tiny nation demands extra compensation from US over nuclear tests
Around 55% of all cancers in parts of the Marshall Islands are linked to US nuclear testing, the National Cancer Institute claims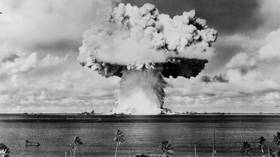 The foreign minister of the Marshall Islands has called on Washington to boost compensation payments to the Pacific island nation as it grapples with health and environmental impacts from the United States' extensive nuclear testing program.
Speaking at a US congressional hearing in Washington on Thursday, Jack Ading said a continuance of his country's Compact of Free Association (COFA) with the United States was rushed through in January without adequate domestic authorization, in order to meet a Biden administration budget deadline.
"There are other issues that needed to be included, and especially funding for the nuclear-affected populations," Ading told the Senate Committee on Energy and Natural Resources.
The Marshall Islands is one of one three Pacific island countries which has a COFA arrangement with the United States. Per the agreement, Washington provides assets for the islands' defense needs and supplies economic assistance, in return for strategic access to the Pacific.
The US is expected to contribute around $7.1 billion in financial assistance to the three nations over the next 20 years, the others being Micronesia and Palau.
US military forces conducted 67 nuclear bomb tests on the islands between 1946 and 1958. This included the Castle Bravo thermonuclear detonation at Bikini Atoll in 1954, which remains the largest bomb ever detonated by the United States, forming a 4.5-mile-diameter fireball that was visible for more than 250 miles.
The US National Cancer Institute has suggested that "up to 55% of all cancers in the northern atolls are a result of nuclear fallout," and can be directly traced to the Castle Bravo detonation.
Last year, more than 100 activist groups, including environmental and arms-control campaigners, urged the Biden administration to formally apologize to the Marshall Islands for its nuclear testing program.
Joe Yun, the chief US negotiator with the three Pacific nations, told the hearing on Thursday that he was "puzzled" by the Marshall Islands' request. He added that the nuclear liability issue had been settled by both parties in the 1980s, and that their existing arrangement contained provisions for a $700 million trust fund, which could be used to deal with issues related to the decades-old nuclear tests.
Yun added: "I have told my Marshallese colleagues: Listen, there is no more money." He also said he believed a November election and rumors of an impending no-confidence vote against its President David Kabua may have influenced the request.
Ading denied the claim, saying he was "saddened and disappointed" by Yun's comments.
You can share this story on social media: