Poland wants Ukraine to admit guilt for Nazi-linked WWII massacre
Nationalists who conducted acts of ethnic cleansing have been lionized by Kiev as pro-independence heroes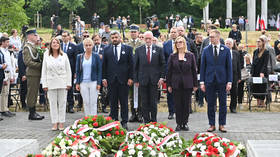 Accountability for the mass killings of Poles by Ukrainian nationalists during World War II is essential for reconciliation between the two nations, a resolution passed by the lower house of parliament in Warsaw has said.
The document was adopted by lawmakers in the Sejm on Tuesday, as Poland commemorated the victims of wartime atrocities in Volhynia and Eastern Galicia 80 years ago. Members of the Ukrainian Insurgent Army (UPA), the militant wing of the Organization of Ukrainian Nationalists (OUN), were the main perpetrators of the crimes, which Poland considers an act of genocide.
"In the attacks by OUN and UPA units, supported by part of the local Ukrainian community, over 100,000 Poles were murdered, often in a very brutal way," the Polish MPs said. "Several hundred thousand people fled… fearing the same fate."
The OUN allied with Nazi German invaders in the hope of creating a Ukrainian nation state, and slaughtered groups that they deemed to be obstructing their cause.
Their victims also included Jews, Czechs and Russians, along with ethnic Ukrainians who opposed the purges, the Polish resolution noted. The ethnic cleansing campaign was accompanied by the destruction of property, including items of cultural and religious significance.
"Polish-Ukrainian reconciliation, which was built over years by representatives of both nations, must also include recognition of guilt and commemoration of the victims," the lawmakers stressed.
Many Polish officials have said they expected Kiev to make gestures of accountability during the 80th anniversary of the tragedy. The Ukrainian government considers the UPA and its leaders to be national heroes, as they were fighting for Ukrainian independence from the Soviet Union.
Ukrainian President Vladimir Zelensky joined his Polish counterpart Andrzej Duda last week for a joint commemoration in Western Ukraine, but did not offer a formal apology. Kiev's ambassador to Warsaw, Vasily Zvarych, previously advised Poland against attempts to "pressure" his nation into taking "unacceptable" steps regarding their shared past.
You can share this story on social media: