Japan's top court rules on trans bathroom case
The judiciary said it was illegal to limit a transgender civil servant's access to women's restrooms at work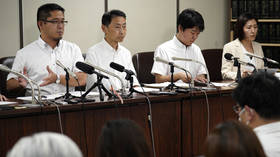 The Supreme Court of Japan has struck down a Trade Ministry policy restricting the use of women's bathrooms by a transgender official, deeming the regulation "illegal" and "unacceptable" following a years-long legal battle.
The court ruled against the policy unanimously on Tuesday, overturning a lower court decision in favor of the official, who has not been named. It said the Trade Ministry policy "significantly lacked validity by excessively considering the official's colleagues and not taking into account her personal circumstances."
The transgender staffer first filed suit against the government in 2015 after being limited to use women's bathrooms no more than two floors away from her workplace, which the ministry said was out of consideration for other female workers. She was also permitted to use any male restroom, but argued the restrictions were discriminatory.
While the Tokyo District Court sided with the plaintiff in 2019 and ordered the government to pay 1.32 million yen ($9,400) in damages, that ruling was shot down on appeal in 2021, when a judge determined that bathroom restrictions were lawful and meant to "create an appropriate workplace environment for everyone by considering the sexual concerns of other employees."
Although Tuesday's decision reversed the prior ruling and again found the bathroom policy illegal, presiding judge Yukihiko Imasaki noted that the court's opinion did not apply to public restrooms in general, adding that this issue would have to be settled in a separate case.
The transgender official, who has been diagnosed with gender dysphoria but has not undergone gender reassignment surgery, hailed the ruling during a press conference later on Tuesday, hoping it would be "applied to other cases concerning discrimination."
"We need to give serious thought about how to engage with minorities such as those with disabilities or gay people, and not in an abstract manner," she added, according to the Japanese media.
The Trade Ministry, meanwhile, promised to review the ruling and determine how to respond following dialogue with other government agencies.
Until recently, Japan had no laws barring discrimination against LGBTQ individuals, but lawmakers passed legislation in June which aimed to promote "understanding" of gay and transgender people and prohibit "unfair discrimination." It is still the only G7 nation that does not legally recognize same-sex marriages, though some local courts have deemed that policy unconstitutional. Only a ruling by the Supreme Court could change the legal status of gay marriage.
You can share this story on social media: