'1,000-year rain event' pummels New York's Hudson Valley
The sudden, dramatic rainfall washed out sections of highway and caused at least one death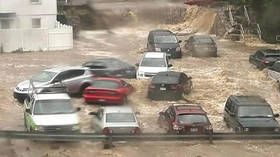 New York has declared a state of emergency for the Hudson Valley region of Orange County after eight inches of rain fell in just three hours on Sunday night, devastating the area with what meteorologists have described as a "1,000-year flood event."
A woman died trying to flee her flooded home with her dog on Sunday night after she lost her footing amid "tidal wave-like waves" and was swept into a ravine, Orange County executive Steven Neuhaus told ABC's Good Morning America on Monday. He explained that the force of the flooding had dislodged massive boulders into the woman's house.
Several other people were said to be missing as flooding washed out entire sections of highway in the region and left other parts impassable. Several bridges also collapsed, according to state police.
Travelers were advised to stay off roads as flooding engulfed homes and cars and left thousands without electricity. One house was "literally swept away," Governor Kathy Hochul told reporters.
Six to ten inches of rain also fell on nearby Westchester, Rockland, and Putnam Counties. A section of State Route 218 from Cornwall to West Point, home of the eponymous military academy, was said to be "gone," and many other road closures were reported.
Photos and video posted to social media showed chasms opening up in the middle of a highway and cars struggling to pass through rising waters.
Extreme flooding in New York's Hudson Valley, where the weather swamped roadways. Even approaching an area like this is a bad idea because the ground is unstable, and huge sections could suddenly give way. pic.twitter.com/lS1E73i9rk

— Xeriland (@Xeriland) July 10, 2023
The governor also declared an emergency due to flooding in Ontario County, near Rochester in the state's northwest. Areas of southeastern New York including Yonkers, Manhattan and the Bronx were under flash flood warnings Sunday night, as the National Weather Service warned the heavy rains could cause "life-threatening flooding to basements" and advised residents to seek higher ground.
You can share this story on social media: