Erdogan ties Sweden's NATO bid to Turkish membership of the EU
NATO leader Jens Stoltenberg has denied that a quid-pro-quo wasn't part of Ankara's initial deal with Stockholm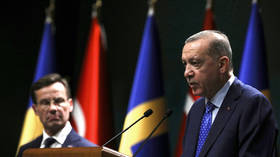 Ankara will sign off on Sweden's accession to NATO if the EU "opens the way" to membership for Türkiye, Turkish President Recep Tayyip Erdogan said on Monday. Erdogan has reportedly asked US President Joe Biden to help pressure Brussels into accepting Türkiye into the bloc.
"Türkiye has been waiting at the door of the European Union for over 50 years now, and almost all of the NATO member countries are now members of the European Union," Erdogan told reporters before flying to NATO's summit in Lithuania.
"Come and open the way for Türkiye's membership in the European Union. When you pave the way for Türkiye, we'll pave the way for Sweden as we did for Finland," he added.
Sweden, Finland, and Türkiye agreed last summer that Ankara would approve the two Nordic nations' applications for NATO membership if both granted a number of key concessions to Ankara. Sweden and Finland promised that they would lift arms embargoes on Türkiye, extradite alleged Kurdish and Gulenist terrorists, and crack down on the activities of the Kurdistan Workers' Party (PKK) within their borders.
Türkiye's parliament signed off on Finland's application in March, but Erdogan maintains that Sweden hasn't fulfilled its end of the bargain. In a phone call with Biden on Sunday, the Turkish president claimed that Sweden still allows "terrorist organizations" – referring to the PKK – to demonstrate on its streets, according to a readout of the call from Ankara.
Erdogan also told Biden that Türkiye expects a "clear and strong message of support" from NATO leaders for its EU membership at this week's summit in Lithuania. A readout of the call from the White House made no mention of this request.
Erdogan is set to hold talks with Biden and Swedish Prime Minister Ulf Kristersson while in Lithuania.
Asked about Erdogan's comments, NATO Secretary-General Jens Stoltenberg told the Associated Press that Türkiye's accession to the EU was not a part of the deal that Sweden, Finland, and Türkiye signed last year. Stoltenberg insisted that Sweden has fulfilled its obligations, and that it is "still possible to have a positive decision" on its accession to the military bloc during this week's summit.
Türkiye applied for EU membership in 1987 and was recognized as a candidate in 1999. Membership negotiations opened in 2005, but progress was slow, and no talks have taken place since 2016. Brussels has since condemned Erdogan over alleged human rights abuses, and the Foreign Affairs Committee of the European Parliament warned in a 2017 report that constitutional reforms strengthening his powers could run afoul of EU law and threaten Ankara's membership bid.
You can share this story on social media: