Latin American nation declares emergency over rare disease
Peruvian authorities have reported a spike in cases of Guillain-Barre syndrome, which can cause temporary paralysis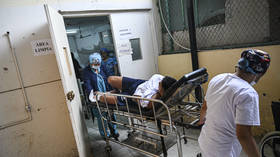 Peru has declared a state of emergency amid a rise in cases of the rare autoimmune disease, Guillain-Barre syndrome (GBS). Nearly 200 instances have been reported in recent months, with authorities allocating over $3 million to procure drugs for treatment.
The measure, which will last 90 days, was announced by Peruvian Health Minister Cesar Vasquez during a visit to the National Institute of Neurological Sciences on Saturday.
"There has been a significant rise in recent weeks that forces us to take action as the state to protect the health and life of the people," the official explained.
According to the minister, the state of emergency will allow the National Center for the Supply of Strategic Health Resources to purchase immunoglobulin for the treatment of GBS patients for the next two years.
More than 12 million Peruvian sol ($3.3 million) has been earmarked for this purpose, Vasquez revealed. Most regions already have sufficient medicines at their disposal, although a redistribution scheme has been set up to help those in need, the minister added.
According to official data, 182 GBS cases have been recorded in Peru to date. Of those, 31 remain in hospital and 147 have been discharged. Four people have succumbed to the disease since January.
The World Health Organization (WHO) describes Guillain-Barre syndrome as a rare condition in which a person's immune system attacks the peripheral nerves. This leads to temporary loss of muscle control as well as the absence of the ability to feel pain, temperature or touch.
Most patients are said to recover fully without any complications.
However, GBS can be life-threatening, especially when the chest muscles are affected, making breathing difficult. The condition can also render a patient unable to speak or swallow. In such extreme cases, patients are placed in intensive-care units for constant monitoring.
On average, 3%–5% of GBS sufferers end up dying from complications.
The disease is often preceded by bacterial or viral infection, or by vaccine administration or surgery. GBS occurs particularly frequently in Zika virus patients, with the pathogen believed to be a trigger.
There is currently no cure for GBS, and doctors simply alleviate the symptoms and try to shorten the condition's duration.
You can share this story on social media: