Ukraine 'deserves' NATO membership – Erdogan
The Turkish leader called for a new round of negotiations between Moscow and Kiev after mediating peace talks last year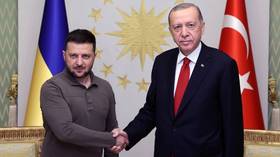 Turkish President Recep Tayyip Erdogan has claimed that Ukraine "deserves" to join NATO. He was speaking at a joint press conference after meeting with Ukrainian President Vladimir Zelensky in Istanbul on Saturday, and ahead of a major NATO summit in Lithuania next week.
"There is no doubt that Ukraine deserves membership of NATO," Erdogan he told reporters, adding that Ankara had shown "solidarity" with Kiev and provided "concrete assistance."
Zelensky said he was "pleased" to learn of Erdogan's support, adding that he "raised the issue of Ukraine's invitation to NATO" during their meeting.
The Turkish leader also called on Moscow and Kiev to "return to peace efforts." He claimed that Türkiye had made the "most intense efforts" to bring the conflict to an end last year after mediating peace talks, though the negotiations ultimately fizzled out.
"A fair peace creates no losers," he noted.
On Friday, the Kremlin said it would "very closely follow" the sit-down between Zelensky and Erdogan, adding that it would be "interested" to know what the two leaders discuss, while stressing its "constructive partnership" with Ankara.
At the briefing with Zelensky, the Turkish president also announced that he would host his Russian counterpart, Vladimir Putin, for talks in August, expressing hope to extend a grain export deal designed to keep food products flowing through Black Sea ports amid the Ukraine conflict.
"Our hope is that it will be extended at least once every three months, not every two months. We will make an effort in this regard and try to increase the duration of it to two years," Erdogan said.
You can share this story on social media: