Russia points to root causes of migration
Western meddling in the Middle East and North Africa is driving the crisis, Foreign Ministry spokeswoman Zakharova has said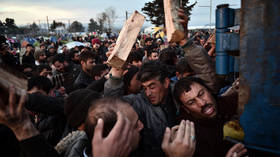 Solving the problem of mass migration requires addressing the Western meddling into the affairs of other countries and destabilization of their governments, Russian Foreign Ministry spokeswoman Maria Zakharova said on Friday.
During her daily news briefing, Zakharova was asked to comment on unspecified media reports in "unfriendly countries" about Moscow allegedly weaponizing migration against the EU.
"We believe that migration in this direction is the result of irresponsible and reckless interference by Western countries in the internal affairs of sovereign states, in order to destabilize them and forcefully change objectionable governments in the region," Zakharova said, noting that most migrants come to the EU from the Middle East and North Africa.
The countries responsible should deal with the consequences, one of which is a "massive flow of migrants and refugees," she said.
Moscow's position is that the best way to solve the migration problem is to "eliminate the root causes that force people to leave their homeland," including political settlement of ongoing conflicts, economic aid, and strengthening governments in the fight against terrorism, according to the spokeswoman.
Mass migration into Europe began following the so-called Arab Spring of 2011, which saw "color revolutions" in several North African countries and Western-backed regime change operations in Libya and Syria. Once the most prosperous country in Africa, Libya has been torn by civil war ever since, while the neighboring region of Sahel has had to deal with Islamist militants. Syria almost fell to Islamic State (IS, formerly ISIS) terrorists until Russia and Iran intervened in 2015.
The EU has sought to spread the burden of handling the migrants and asylum-seekers through a policy of "mandatory solidarity," adopted at a ministerial meeting in early June, but Hungary has since signaled it intends to reject the proposal.
According to the International Organization for Migration (IOM), an estimated 94,000 migrants had arrived on EU shores as of July 3, compared to 189,000 in 2022. The vast majority of arrivals, some 85,000, have been by sea. The crossing has also been more hazardous this year, with more than 2,000 deaths recorded so far, compared to 2,400 in all of 2022.
You can share this story on social media: