Biden officials ordered to limit contact with social media firms
The US government was acting like an "Orwellian 'Ministry of Truth," a federal judge said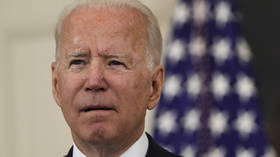 A federal judge in Louisiana has restricted some Biden administration officials from contacting social media platforms on matters of content moderation, in a move that critics say could hinder efforts to combat the spread of misinformation ahead of the 2024 US presidential election.
In a 155-page ruling released on Tuesday, Terry Doughty – a judge appointed by former US President Donald Trump – moved to limit government oversight to social media firms' content "containing protected free speech."
The judgement comes in response to a lawsuit brought by Republican attorneys general in Louisiana and Missouri, who had claimed that federal government officials had conspired to silence conservative viewpoints online, under a veil of curtailing misinformation.
"Evidence produced thus far depicts an almost dystopian scenario," Doughty said. He added that efforts to stage-manage debate online, particularly relating to the Covid-19 pandemic, had led to the United States government assuming "a role similar to an Orwellian 'Ministry of Truth.'"
The judge said, though, that government officials would still be able to request moderation by social media companies in criminal cases, and in instances where national security is threatened.
In his ruling, Doughty also referenced several exchanges between government officials and Big Tech – including one in which former White House director of digital strategy Rob Flaherty complained to Google that some YouTube content was "funneling" people towards vaccine falsehoods. Flaherty wrote in an email that it was a concern "shared at the highest (and I mean highest) levels" of the White House.
However, Nina Jankowicz, a specialist in the study of misinformation campaigns, said the ruling represented a "weaponization" of the federal court system. "It is an intentional and purposeful move to disrupt the work that needs to be done ahead of the 2024 election, and it's really chilling," she said, according to The Guardian on Thursday.
Jankowicz also noted that "nothing that the government has been doing is actually censorship" and that "it is a really dark moment for the United States that such a broad injunction would be granted."
Others, including the US Senator from Missouri, Eric Schmitt, take a different view. Schmitt, who was one of the originators of the lawsuit, described the ruling as a "huge win for the first amendment and a blow to censorship."
The White House said that the Justice Department was reviewing the ruling. It added that social media firms "have a critical responsibility to take account of the effects that their platforms are having on the American people."
You can share this story on social media: