US set to greenlight cluster bombs for Ukraine – CBS News
Washington could approve the controversial shipment as early as this week, the outlet reported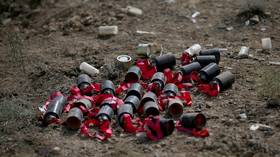 Washington may decide whether to send controversial cluster munitions to Ukraine this week, CBS News reported on Wednesday, citing unnamed US officials. Kiev and its backers in the US have been urging such a move for months.
Cluster weapons, which are subject to an international treaty, spread dozens of small bomblets over a large area. Some of those submunitions fail to detonate and remain a hazard for decades afterwards, especially to small children, who may find and pick them up without realizing the danger.
Over 100 countries, including some NATO members, have signed a convention banning this type of arms, however the US, Ukraine and Russia have not. The particular artillery shells Kiev is requesting from the Pentagon are the dual-purpose improved conventional munitions, or DPICM, which the US stockpiled in large quantities during the Cold War.
The Pentagon has assessed that Kiev could greatly benefit from such weapons in their fight against Russia. Deputy assistant secretary of defense Laura Cooper cited "existing congressional restrictions" and "concerns about allied unity" as standing in the way of deliveries during a US House subcommittee last month.
Members of the congressional Helsinki Commission urged the White House to overcome those obstacles, arguing in a letter that Ukraine would put the weapons "to their intended use" to "counter Russia's numerical and material superiority."
"Let us use this untapped, vast arsenal in service of Ukrainian victory, and reclaiming Europe's peace," the message said.
Kiev launched its long-promised counteroffensive against Russia last month, but has failed to achieve any significant territorial gains. Ukrainian officials, including President Vladimir Zelensky, have blamed slow delivery of Western arms for the lackluster results, claiming that it gave their opponent time to prepare defenses.
Moscow has accused the US and its allies of waging a proxy war against Russia, in which Ukraine serves as one of the tools. Russian officials have said that Western arms supplies prolong the armed conflict, but would not alter its outcome.
You can share this story on social media: