European king apologizes for slavery
The Dutch monarch, Willem-Alexander, said that the exploitation of people in colonial times was a "crime against humanity"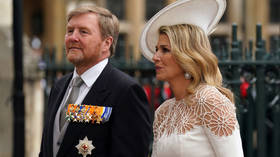 King Willem-Alexander of the Netherlands has marked the 160th anniversary of his country's official abolition of slavery by issuing a historic apology for Dutch involvement in the trade.
"On this day we remember the Dutch history of slavery," Willem-Alexander told a crowd on Saturday at the national slavery monument in Amsterdam. "I ask forgiveness for this crime against humanity."
The king noted that Dutch Prime Minister Mark Rutte had apologized for the country's 250-year role in slavery last December. "Today, I stand before you. Today, as your king and as a member of the government, I make this apology myself, and I feel the weight of the words in my heart and my soul."
A government-commissioned study released last month found that the Dutch royal House of Orange reaped the modern-day equivalent of about $600 million in profits from slavery from 1675 to 1770. Much of that wealth was given to the monarchy through the Dutch East India Company. Late last year, the Royal House commissioned a more extensive probe of the royal family's role in Dutch colonial history.
Willem-Alexander said that racism remains a problem in the Netherlands. He added, however, that "times have changed," and "the chains have truly been broken."
Two activist groups held a protest march before the king's speech, proclaiming that there would be "no healing without reparations." Rutte said in December that the Dutch government had no plans to pay money to the descendants of slaves. Rather, Amsterdam has established a €200 million ($218 million) fund to address the legacy of slavery, such as funding initiatives to raise awareness on the issue.
The Dutch colonial empire at different times included parts of Indonesia, Suriname, Brazil, the Virgin Islands, Mauritius, and Sri Lanka. Much of the empire's Asian territory was administered by the Dutch East India Company after being captured from Portugal. The Netherlands began re-examining its colonial history in 2020 amid the international wave of Black Lives Matter protests following the death of George Floyd in US police custody.
You can share this story on social media: