Ukraine must explain how €70 billion was spent – EU state
Hungary will not allow the bloc's money to keep pouring into Ukraine unaccounted for, Prime Minister Viktor Orban has said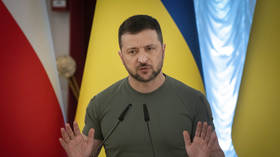 Hungary will oppose the European Commission's plans to give Ukraine €50 billion in financial aid until Kiev explains what it did with the €70 billion already received from the EU, Prime Minister Viktor Orban said on Friday. Budapest and Brussels have repeatedly clashed over the supply of cash and arms to Ukraine.
According to the latest figures from Brussels, the EU has given Kiev €72 billion ($79 billion) in economic, military, and humanitarian aid since Russia's military operation began last February. Despite this unprecedented outflow draining its coffers, the European Commission announced earlier this month that it would offer Kiev an additional €50 billion in loans and grants.
"One thing is clear, we Hungarians... will not give more money to Ukraine until they say where the previous around 70 billion euros worth of funds has gone," Orban told Hungarian radio, according to a Reuters report.
"And we find it utterly ridiculous and absurd, that we should contribute more money to finance debt service costs of a loan, from which we have still not received the funds we are entitled to get," he continued, referring to the commission's recent announcement that interest costs on the bloc's external debts would double this year due to inflation.
The commission is currently denying Hungary and Poland access to billions in cohesion funds over differences with their governments on judicial reform, academic, LGBTQ issues and immigration. European Commission President Ursula von der Leyen admitted last year that the withholding of funds is one of several "tools" that Brussels can use to force member states to "work with us."
Hungary blocked an €18 billion financial aid package for Ukraine last year until Brussels freed up a separate batch of funding withheld from Budapest. More recently, Hungarian Foreign Minister Peter Szijjarto stated on Monday that Hungary would extend for another month its veto on a €500 million arms package from the EU's common weapons fund for Ukraine.
Orban and Szijjarto have both repeatedly called for an immediate ceasefire and peace talks in Ukraine. Earlier this week, Orban explained that a Ukrainian victory on the battlefield is "impossible" and that without an immediate ceasefire and an end to Western arms deliveries, Ukraine will "lose a huge amount of wealth and many lives, and unimaginable destruction will occur."
You can share this story on social media: