France deploys anti-terror units against rioters
Curfews were declared in several cities as protests over the death of a man in a police shooting continue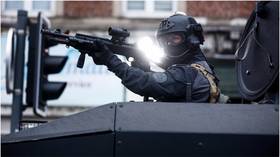 The French government deployed over 40,000 police and gendarmes around the country on Thursday, including elite counter-terrorism and tactical units, after rioters infuriated by the death of a 17-year-old pizza delivery driver torched a bank and attacked a prison.
Paris and its inner suburbs were fortified with an additional 5,000 officers, the Interior Ministry told French media. Members of the National Gendarmerie Intervention Group (GIGN), the Investigation and Intervention Brigade (BRI) and the Inquest Assistance Intervention Deterrence (RAID) tactical unit have been spotted in Nanterre, where the riots first began.
The community northwest of Paris is where two officers pulled over the teen, later identified as Nahel M., on Tuesday morning. When the yellow Mercedes with Polish license plates started to drive off, one of the officers fired through the driver's side window, killing Nahel.
More than 6,000 people marched through Nanterre on Thursday, heeding the call for "vengeance" issued by Nahel's mother, Mounia, on social media. The demonstration ended in clashes with police. By 9pm local time, a Credit Mutuelle bank branch in the town was looted and set on fire.
A la sortie du RER Nanterre-Préfecture, où se déroulent les premiers heurts de la soirée après une période post-marche blanche relativement calme, une agence bancaire a été incendiée, menaçant d'embraser tout l'immeuble. Les pompiers interviennent, applaudis par la foule. pic.twitter.com/k5LIQz33Qp

— Henri Seckel (@hseckel) June 29, 2023
Clashes broke out in other parts of France as well. In the night between Wednesday and Thursday alone, 180 people were arrested and 170 police officers and gendarmes injured, according to the Ministry of the Interior.
In the Mirail district of Toulouse, rioters targeted the police station with incendiaries. Several businesses at the Old Port in Marseilles were vandalized and looted. About 20 masked rioters attacked Fresnes Prison in Val-de-Marne, but failed to breach the facility. Violence was also reported in Bordeaux, Lormont, and Lille.
Several cities, including Clamart and Compiegne, have declared night-time curfews until Monday. Four of France's 18 regions – Bordeaux, Ile-de-France, Tours, and Lille – have also suspended all public transportation.

Prime Minister Elisabeth Borne and David Lisnard, chair of the Association of Mayors of France, issued a joint statement declaring that "violence will not solve anything" and condemning the "inadmissible and unacceptable acts" of the rioters.
Meanwhile, the Nanterre prosecutor has charged the officer who fatally shot Nahel with intentional homicide. The officer's attorney, Laurent-Franck Lienard, told French media that his client is sorry about the teen's death, but maintains that the shooting was within the law. Lienard said he intends to fight the charges "once the political pressure and the anger of the street have calmed down and we can be heard."
You can share this story on social media: