NATO believes Ukraine's counteroffensive unsuccessful so far – FT
Long-term Western support likely depends on the outcome of the operation, a source has told the newspaper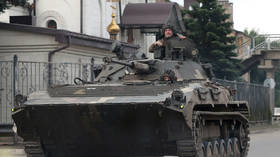 Western officials have privately acknowledged that Ukraine's counteroffensive against Russia is not going well, and that future military assistance to Kiev may diminish as a result, the Financial Times has reported.
"Russia still has the advantage of mass," General Christopher Cavoli, NATO's top commander in Europe, told a private gathering last week, the FT claimed on Thursday. He reportedly added that Ukraine has not achieved any significant success in its operation.
"For better or worse, the outcome [of the operation] is going to impact everything we do regarding Ukraine, and we are all aware of that," a senior European diplomat told the FT on condition of anonymity. "Funding, support, political engagement… and most importantly the peace talks that are coming whether we like them or not."

Publicly, Western officials have pledged to support Ukraine for "as long as it takes" to defeat Russia. However, Moscow has warned that by arming and training Ukrainian troops, the US and its allies are prolonging the conflict and will not alter its outcome. The Western approach amounts to "fighting to the last Ukrainian," Russian officials have stated.
The FT cited the assessments to illustrate internal discussions in the West. EU leaders are set to offer formal security commitments to Ukraine, and the newspaper said it had obtained a draft copy of the final statement being considered at an ongoing summit in Brussels.
EU members France and Germany, along with the UK and the US, are seeking to provide bilateral security arrangements. The deal would serve as a "stopgap" to give Kiev "confidence in enduring Western support" and ensure that the EU is not sidelined by NATO, the report said. Ireland, Malta and Austria are reportedly against extending vaguely defined commitments.
Ukrainian officials have insisted they will pursue military action until they have reclaimed all the territory lost to Russia. A Ukrainian law also bans any negotiations with Moscow as long as Russian President Vladimir Putin remains in office.
Moscow has said it is prepared for peace talks under certain conditions, and that Kiev's uncompromising stance, calcified by continued Western support, stands in the way of diplomacy.
You can share this story on social media: