Denmark begins training Ukrainian pilots for F-16s
Copenhagen will also discuss donating some of its fleet of the fighter jets to Kiev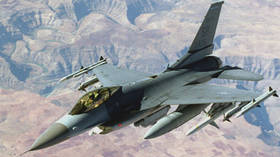 Denmark's acting defense minister Troels Lund Poulsen said on Monday that the NATO country had begun training Ukrainian pilots to operate F-16 fighter jets, and that discussions are taking place in Copenhagen about donating some of its fleet of military aircraft to Kiev.
Lund Poulsen, who has served as the Scandinavian country's temporary defense minister since February, said Denmark "has taken the step of starting a training and further education effort for the Ukrainian pilots," according to Danish broadcaster DR.
"We will also consider whether we should make a concrete donation to Ukraine of the Danish F-16 fighters, and how many there should be," he added.
The Danish government official also stated that the complete phasing out of its fleet of 30 active F-16s, which was initially planned for 2027, had been brought forward to 2025. They will be replaced by 27 state-of-the-art F-35 jets. This switch will begin in late 2023.
Ukrainian pilots will require a minimum of six to eight months of training, Lund Poulsen told DR, but "this does not mean that you cannot make a decision beforehand. But [the F-16 fighter jets] will be in Denmark until 2024."
Kiev has petitioned Western nations to supply fighter jets to support the country in its conflict with Moscow. Despite initially being reluctant to do so, the United States and other members of the NATO bloc have now allowed Ukrainian pilots to be trained how to operate F-16 aircraft. However, none have yet committed to supplying Kiev with the fighter jets.
Any donation of F-16s from Denmark to Ukraine must also come with weaponry, according to Major Karsten Marrup of the Royal Danish Defense College. "A weapon donation must be included. Missiles, bombs and the like must be included in the donation, so that you have everything you need to be able to use the planes," he told DR.
The training and potential supply to Ukraine of F-16 fighters follows an extended internal debate in Washington over the potential risks of Ukraine using the jets to attack targets on Russian territory, potentially escalating the conflict.
The F-16, which is more than 40 years old, remains the most common fixed-wing aircraft in global military service today. The American-made fighter jet serves, or has served, in the militaries of at least 25 countries. The United States retains control of re-exportation rights of any country that has F-16s in its military fleet.
You can share this story on social media: