No panic in Africa over Wagner revolt, Lavrov tells RT
Moscow can provide security directly to partner nations, the foreign minister said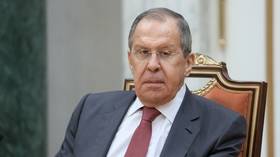 There is no "panic" in African nations after last week's turmoil in Russia involving the Wagner Group, including among governments that use the services of the private military company, Russian Foreign Minister Sergey Lavrov has told RT.
Some Western media outlets have claimed that governments relying on Wagner for security are seriously concerned that Moscow will crack down on the group following Saturday's mutiny by its leader, Evgeny Prigozhin.
The insurrection, aimed at removing senior Russian military officials from office, was aborted by the businessman, after he accepted a Minsk-mediated deal with the Kremlin. Russian officials have said Wagner troops will not be prosecuted for their role in the turmoil.
"I have not seen any sign of panic or any sign of change in these African states' relations with Russia," Lavrov told RT, when asked about the claims.
He said many of his foreign counterparts have contacted him to express their support for the Russian government in view of the situation, though some asked to keep such communications private. African countries were among those expressing solidarity, he added.
"This situation cannot change the strategic relationship between Russia and its African partners," Lavrov stressed.
The minister declined to comment on the future availability of Wagner's services to its African customers. But he said that nations which hired Russian private military contractors also have direct security cooperation with Moscow. The Central African Republic (CFR) is hosting a hundred military instructors under an arrangement with the Russian Defense Ministry, he pointed out.
Lavrov claimed that reports of panic in Africa were coming from outlets, for which the "fact-reporting function is subordinate to their function as tools of ideology and the collective West."
He also accused Western powers of failing nations, such as CAR and Mali, when they decided to end their counterterrorism efforts in the Sahel region. He also accused them of destabilizing those nations it in the first place, when they launched a military intervention in Libya in 2011.
You can share this story on social media: