Foreign powers involved in coup attempt in Russia – Vucic
The Serbian President believes that the PMС Wagner insurrection was stopped thanks to a strong reaction from President Vladimir Putin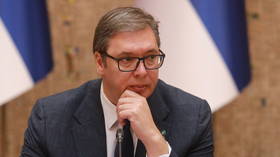 Foreign intelligence services likely played a role in the failed Wagner PMC coup attempt in Russia on Saturday, Serbian President Aleksandar Vucic has claimed. Russian President Vladimir Putin described the mutineers as traitors whose actions could play into the hands of Moscow's adversaries.
In an interview with Serbia's Pink TV channel on Sunday, Vucic stressed that Belgrade does not support coups in other countries as a matter of principle.
"We didn't support it in Turkey or Russia, we wouldn't support it in America, either," the official explained, adding that governments should only be "changed in elections by the will of the citizens."
The Serbian head of state went on to say: "I don't want to say who was involved from the outside, but have no doubts."
Vucic cited "foreign services," without, however, going into further detail or providing any proof.
He said the masterminds behind the failed coup attempt had devised a sly tactic which included attacking the Russian president without saying directly that the effort was actually directed at him.
The official also claimed that some of the grievances voiced by the mutineers, especially those involving allegations of corruption, were legitimate. However, whatever these may be, they are still not a "reason to stab your country in the back," he emphasized.
The Serbian president added that some forces, which he stopped short of specifying, had "had high expectations" of the Wagner PMC insurrection.
Vucic praised Putin's handling of the crisis, saying that it was ended thanks to his "sharp and strong reaction."
Addressing the nation on Saturday, Putin characterized the armed mutiny as a "betrayal" and a "knife in the back" of Russia and its people. At a time when the country is "waging a tough struggle for its future," he said, "any strife" might be used by enemies "to subvert us from within."
Meanwhile, Politico reported on Saturday that American officials viewed the events in Russia as opening a window of opportunity for the Ukrainian counteroffensive.
The New York Times reported that same day, citing anonymous sources, that US intelligence agencies strongly suspected that Evgeny Prigozhin was planning a major move against the Russian government.
US President Joe Biden and his administration were allegedly briefed on this as early as Wednesday.
You can share this story on social media: