Russia and US narrowly avoided major conflict in Syria – Telegraph
A crisis was reportedly averted during a 2017 confrontation in which both sides threatened to use force, a new book has claimed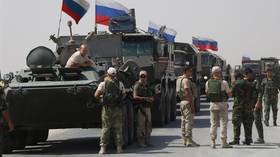 The world's leading nuclear superpowers nearly came to blows in Syria after Russian forces threatened to destroy a US base unless American special forces vacated the facility, a UK journalist has claimed in a new book.
The tense standoff occurred in May 2017, at the height of the Syrian Civil War, the UK's Telegraph newspaper reported on Friday, citing a new book by one of its own staffers. It began when Russia demanded that US special forces leave their base – the Al-Tanf garrison, located near the point where the Syrian, Iraqi, and Jordanian borders meet – "or face destruction."
US troops "dispersed into the desert as a precautionary measure," according to the report. US Army General Stephen Townsend, then commander of US-backed coalition forces in Syria, responded by sending his Russian counterpart an ultimatum: "Are we talking or are we fighting?"
After a brief pause, the Russian commander replied, "We are talking," according to veteran Telegraph journalist Con Coughlin's new book, 'Assad: The Triumph of Tyranny.' Townsend then told his coalition colleagues, "My Russian friend just backed down."
The close call came while Russian General Sergey Surovikin, then commander of Moscow's forces in Syria, was away on leave. "His replacement failed to observe the strict protocols agreed between the Americans and Russians to avoid a direct confrontation between the two forces," the Telegraph said.
While US forces purported to be focusing on fighting Islamic State (IS) militants at the time, the Russian Defense Ministry claimed in October 2017 that they were allowing jihadists to move about freely around Al-Tanf. At the time, Russian forces were helping Syrian President Bashar al-Assad's regime defeat US-backed rebels and IS.
US forces illegally occupied Syrian territory during the civil war and continue to do so to this day. Washington is still working with IS and other terrorist groups to carry out attacks against Syrian government forces, Russian Foreign Intelligence Service chief Sergey Naryshkin said earlier this year. Assad said in March that the Al-Tanf garrison "serves entirely as a base for training terrorists."
The Syrian conflict has repeatedly put Russian and US forces at risk of potentially escalatory clashes. Multiple American troops were reportedly injured when a Russian military vehicle struck a US vehicle in August 2020. Russian fighters employed by private military contractor Wagner Group were reportedly involved in a failed February 2018 assault by Syrian government forces on an outpost run by US troops and Syrian rebels in Deir al-Zour.
You can share this story on social media: