FDIC accidentally reveals bailout recipients – Bloomberg
The US agency gave $1 billion to the world's top venture capital firm and $900 million to a Chinese tech firm, among others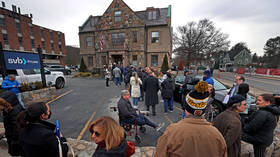 The US Federal Deposit Insurance Corporation accidentally released the identities of the Silicon Valley Bank clients it bailed out following the bank's collapse in March in response to a Freedom of Information Act request, Bloomberg News revealed on Friday.
Upon realizing their mistake, the FDIC reportedly pleaded with Bloomberg to destroy the client list, claiming it had meant to "partially" redact some details "because [the document] included confidential commercial or financial information."
It's not clear what this information was, as the agency has not commented beyond a letter from its attorney to the news outlet, but Bloomberg says it did not destroy or delete anything.
The SVB clients who recovered their deposits thanks to a "systemic risk exception" declared by the FDIC included Sequoia Capital, the world's most prominent venture capital firm, with $1 billion stored with the failed bank, and Beijing-based tech firm Kanzhun Ltd, which got its $902.9 million in deposits back. Life sciences startup Altos Labs' $680.3 million were safe, as were payments startup Marqeta Inc.'s $634.5 million.
SVB's largest depositor according to the FDIC document was crypto stablecoin company Circle Internet Financial Ltd., which had $3.3 billion in deposits there. The bank's failure caused the value of the company's USD Coin – supposed to be pegged hard-and-fast to the dollar – to wobble briefly, though like SVB's other depositors the company was made whole thanks to the taxpayer.
The FDIC typically only insures customer deposits up to $250,000. When SVB, a favorite bank of the venture capital and tech industries, collapsed in March due to a bank run, the FDIC extended its deposit protection to most of the bank's customers in a controversial move critics framed as a bailout.
Supporters of the idea argued that expanding FDIC protection beyond the standard limit was needed to prop up the thousands of small- and medium-size tech startups that called SVB home, lest their own collapse bring down the entire sector, and Treasury Secretary Janet Yellen argued a soft landing for SVB's customers was necessary to prevent total economic collapse. However, the document obtained by Bloomberg suggests the recipients of the FDIC's largesse were never really in danger of collapsing.
You can share this story on social media: