Ukraine conflict 'f***ing good for business' – BlackRock recruiter
An employee of the asset management giant was filmed running from Project Veritas founder James O'Keefe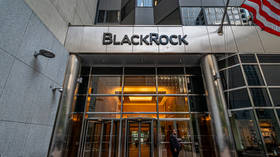 BlackRock wants the conflict in Ukraine to continue as long as possible because it is "good for business," a recruiter for the asset management giant told an undercover reporter with Project Veritas successor, O'Keefe Media Group, in a video published on Monday.
"War is really f***ing good for business," Serge Varlay, whose since-deleted LinkedIn profile described him as a technology recruiter at BlackRock, told the reporter. He outlined a scenario in which an investor could profit off a surge in wheat prices triggered by the bombing of Ukrainian wheat silos, explaining "volatility creates opportunity to make profit" before editorializing, "It's exciting when s*** goes wrong, right?"
"We don't want the conflict to end, as a country," Varlay continued, noting, "the longer this goes on, the weaker Russia is."
Varlay also boasted about his employer's control of the political system. "It's not who the president is, it's who's controlling the wallet of the president," he declared, clarifying that it was "the hedge funds, BlackRock, the banks" who "run the world."
"All these financial institutions, they buy politicians. You can take this big f***ton of money and then you can start to buy people," he said, explaining that senators were "f***ing cheap, you got 10 grand you can buy a senator." The US government also needs BlackRock to run its financial simulations, he said.
Admitting BlackRock "[does] not want to be on the radar," Varlay suggested that "It's easier to do things when people aren't thinking about it." He appeared briefly suspicious of the reporter's motives: "you're like an undercover reporter," he said, arguing "normal people" were uninterested in her lines of questioning – but continued to boast about his role in "decid[ing] people's fates."
After he was confronted in a New York cafe by Project Veritas founder James O'Keefe himself, Varley abruptly headed for the nearest police station. He can be seen in a video motioning for O'Keefe to follow him in. Following the meeting, Varlay deleted his LinkedIn profile, which is still viewable in search engine results for his name.
With over $10 trillion in assets under management, BlackRock controls sizable shares of most large American corporations and pension funds, including Microsoft, Apple, Amazon, Nvidia, Alphabet, Pfizer, Tesla, Merck, Visa, and Mastercard. The company was tapped to assist the US government in the 2008 financial crisis and the Covid-19 response, making it the only private corporation aside from the Federal Reserve itself to exert direct control on the levers of the US financial system and raising questions about insider trading and other conflicts of interest. Several BlackRock alumni serve in the Biden administration, including Brian Deese, the head of the National Economic Council.
You can share this story on social media: