Bangladesh applies to join BRICS
The South Asian country has formally asked to become a member of the international economic bloc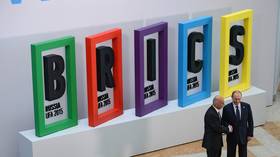 Bangladesh has become the latest country to express interest in joining the BRICS economic group, with reports on Monday revealing that Dhaka has sent a formal request to become a member. The issue is expected to be discussed at the BRICS summit scheduled to take place in South Africa in August.
News of Bangladesh's request was first shared by the Dhaka Tribune newspaper, citing a source familiar with discussions held between Prime Minister Sheikh Hasina and South African President Cyril Ramaphosa in Geneva last Wednesday. According to the outlet, Dhaka officially asked to join the bloc, which consists of Brazil, Russia, India, China, and South Africa, during the meeting.
Bangladesh Foreign Minister AK Abdul Momen has since confirmed the move. He noted that Dhaka, which is currently recognized as a 'Friend of BRICS', has already sent a formal letter to the current chair of the group, South Africa.
Over the past year and a half, a number of countries from around the world have shown increased interest in joining the BRICS group, amid the West's leveraging of international financial systems to wage a widespread economic campaign against Russia.
Russia's deputy foreign minister, Sergey Ryabkov, stated last week that there are currently nearly two dozen states that are considering joining the bloc. Arab countries such as Algeria, Egypt, Saudi Arabia, and the UAE have all expressed interest in greater ties with the group, as have Iran, Argentina, Mexico, Bahrain, Indonesia, and Nigeria.
Meanwhile, Kremlin spokesperson Dmitry Peskov suggested on Friday that the reason so many countries are interested in joining the bloc is due to the effectiveness and authority of the BRICS alliance.
"This is not the effect of Russia's ongoing policies, it is the effect of the prospects for the development of such an integration association as BRICS," Peskov said. He stressed that the group is "an association of countries that share a common approach aimed at developing relations based on benefit and mutual respect and not lecturing each other on how to live, on whom to rely and whom to follow."
Russian Foreign Minister Sergey Lavrov has also stated that new BRICS members would enrich the multipolar foundations of the group, but noted that decisions on accepting requests must be made by consensus among existing members.
You can share this story on social media: