UK military considering 'gender-neutral' titles
Terms like 'rifleman' or 'guardsman' could be things of the past under a new UK military proposal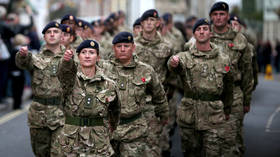 The UK's armed forces are considering a proposal to remove gender-specific terms like rifleman or guardsman from the titles of its various ranks and to replace these with less masculine ones, according to measures being appraised by British army chief Patrick Sanders.
The potential switch, which would uproot centuries of army tradition, comes amid a review into "terms and terminology" and has reportedly come under consideration after some female soldiers expressed to Sanders that they felt excluded by male-dominated phraseology in the army.
"The army is proud of its heritage and traditions, which have contributed to making it an effective fighting force over its long history," an army spokesperson said in comments published by the Times on Friday. "Our people give the British Army a unique edge and we value every soldier equally."
The change, if it takes effect, would also apply to the British Navy, potentially making redundant such terms as 'midshipman' and 'seaman.' It remains unclear what, if any, are the proposed replacements might be for the current army and navy titles.
Despite the proposal having originated from within the ranks of female soldiers, it doesn't appear as though the resolution behind it is unanimous. One female member of the armed forces, a corporal in the Rifles regiment, said this week, according to the Daily Mail, that she had earned her title: "Don't' you dare take my rank of rifleman, I'm proud of it."
Another soldier, an anonymous male, told the Times that he was unconcerned by how female soldiers may or may not want to be titled, describing the issue as "culture-war nonsense."
The British Army has recently fallen short on targets of female representation within its ranks. Speaking in a recent interview, Sanders said that this has led to "precisely these conversations" about inclusivity. "If you want to tap into people's potential, people have to feel they can be themselves."
The proposal, which remains under consideration by Sanders and with a final decision expected soon, follows similar measures undertaken by the Royal Air Force (RAF). Last year, the RAF removed the last of its gender-specific ranks by replacing 'aircraftsman' with 'air specialist.'
You can share this story on social media: