Germany names biggest threat to 'peace and security'
Berlin has accused Moscow of jeopardizing strategic stability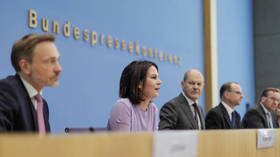 Russia has been declared the biggest security threat in a top German strategic policy paper. Presented on Wednesday, Germany's first ever National Security Strategy describes Moscow as a force threatening both regional and global order while stating that NATO is "always ready" to "defend its allies."
Moscow's military campaign in Ukraine, which the document repeatedly terms a "war of aggression," is described as a "breach of international law and the European security order" in the paper. In it, Berlin accuses Russia of carrying out an imperialist policy and seeking to establish a sphere of influence on the continent.
"With this epochal breach of the European peace order, Russia directly threatens our security and that of our NATO allies and the EU," the strategy says, adding that "for the foreseeable future, today's Russia is the greatest threat to peace and security in the Euro-Atlantic area."
The document then claims that "neither Germany nor NATO" are seeking rivalry or confrontation with Moscow. The military bloc is "always ready" to protect both the sovereignty of its members and of its allies.
In his foreword to the document, Chancellor Olaf Scholz also said that Russia's military operation in Ukraine had "put the European security order fundamentally in question." He labelled it a turning point that Germany would use as an opportunity to sufficiently outfit its armed forces, the Bundeswehr, to equip them for modern-day challenges. The chancellor also described the Bundeswehr's core mission as an ability to defend both Germany itself and its allies against "any potentially conceivable attack."
Moscow has repeatedly stated that Western hegemonic aspirations led to the conflict between Moscow and Kiev, as well as a deep crisis in relations between Russia, the EU and the US. Last week, Russia's top senator, Valentina Matvienko, said that it was Western nations that had embarked on a path of "fierce confrontation" with Moscow.
The West always saw Russia as something alien to its civilization, the senator said, adding that Moscow had done "everything in its power and even more" to ensure its security and defend its legitimate national interests through peaceful means. The US and its allies only understand the language of force, she insisted, and claimed that contemporary Western leaders are obsessed with the feeling of exceptionalism.
It is the first time the German government has published a complex outlook on the nation's external and internal threats ranging from military risks to cyber-attacks and climate change. The paper was jointly presented by Scholz and Foreign Minister Annalena Baerbock, Defense Minister Boris Pistorius, Interior Minister Nancy Faeser and Finance Minister Christian Lindner.
Speaking at the presentation, Scholz maintained that Germany's security identity is still "anchored in the European Union and the Transatlantic Alliance." He also pointed to Berlin's "deep friendship with France" and "close partnership with the USA" during the speech.
Baerbock spoke of the need to develop such a strategy back in March 2022, less than a month after Russia launched its military campaign in Ukraine. According to the German media, it took the government months to agree on the document.
You can share this story on social media: