US to propose major UN Security Council reform – WaPo
Russia agrees the West is overrepresented, but opinions differ on how to fix it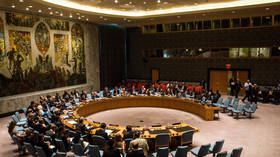 Diplomats in Washington are developing a proposal for "overhauling" the UN Security Council, which may be presented at the September meeting of the General Assembly, the Washington Post reported on Monday, citing anonymous sources.
President Joe Biden's envoy Linda Thomas-Greenfield is currently consulting with member states to "solicit feedback about a potential expansion" of the council, the Post said, adding that US officials hope this will "restore confidence in the world's preeminent governance body by recognizing today's diffuse map of global power."
The Security Council consists of five permanent members – Russia, China, France, the UK and the US – and ten rotating members, elected by the General Assembly for two-year terms. Under the current rules, two of those seats go to Latin America, five combined to Africa and Asia, one to Eastern Europe, and two to Western Europe and "other."
The US proposal is "evolving" but is expected to include adding six more permanent members, who would not have veto power. Officials who spoke to the Post mentioned Germany, Japan and India as possible candidates, while Britain and France want Brazil and at least one African country.
Expanding the Security Council to "become more inclusive" and limiting veto power to "rare, extraordinary situations" were brought up in Biden's General Assembly speech last September.
The US proposal seeks to address the frustration of its proteges in Kiev. Last year, Ukrainian President Vladimir Zelensky demanded that the UN declare Russia an aggressor and "remove" it from the Security Council, or "dissolve yourself." Washington sees the second option as going too far.
"We want these institutions to work so that we can debate and try to resolve international conflicts," one anonymous US official told the Post. "We have to be clear-eyed about the success or lack of success that we've had over the years, but there's no question that we're better off with these institutions than without them."
Russia, too, believes the Security Council needs reform. During an April session on "effective multilateralism," Russian Foreign Minister Sergey Lavrov said the "current massive over-representation of the West in this crucial UN body undermines the principle of multipolarity," and argued that the council needs "expansion of the representation of Asian, African and Latin American countries in it."
Reforming the Security Council requires changing the UN Charter, however, and would need the approval of at least 128 of the 193 member states – as well as all five permanent UNSC members. Getting the current US Senate to ratify the proposal is unlikely at best, the Post noted.
"Any reform of the Security Council may well reduce the weight of the West. So this is a reality," a UN diplomat told the outlet. "And the question is, are we really pushing for that now? Is it just nice rhetoric that we want to do this, or are we really serious when we say we want to do it now?"
You can share this story on social media: