Hillary Clinton trolls Trump following federal indictment
Clinton advertises merchandise with the slogan 'But Her Emails' after Donald Trump's federal indictment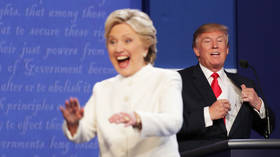 One of Donald Trump's fiercest political rivals, Hillary Clinton, took a shot at the former US president on social media on Friday, following his federal indictment for allegedly mishandling classified government documents at his Mar-a-Lago estate in Florida.
Hours after Trump revealed that he was to be federally indicted, Clinton posted a link to an online store selling hats bearing the slogan "But Her Emails" – in a mocking reference to her detractors.
In 2015, Clinton was investigated for allegedly holding classified information on a private email server at her home. Both the FBI and Justice Department declined to move forward with charges, but the probe generated significant political capital for Trump throughout their fractious 2016 presidential campaigns.
Throughout his own campaign, Trump would frequently encourage his supporters to chant "Lock her up!" in reference to her alleged misdeeds.
"Bringing this back in light of recent news," Clinton wrote to her more than 31 million followers on Twitter. The former US Secretary of State also plugged the "But Her Emails" merchandise last year in reference to a New York Times report that Trump had destroyed documents in a White House toilet.
In 2018, a Department of Justice report detailing the investigation into Clinton's use of private email server said it held "81 email chains containing approximately 193 individual emails that were classified from confidential to top secret."
Explaining the decision to not charge Clinton, the FBI said in a 2016 report that the probe established that her actions were not "clearly intentional" and that she showed no "disloyalty" to the US. Furthermore, the FBI noted that Clinton – who participated in the investigation – displayed "no efforts to obstruct justice."
The 37-count indictment against Trump, revealed on Friday, accuses him of storing classified information in unsecured locations such as a ballroom and a shower at his Florida home. He is also accused of lying to investigators. The documents include government secrets related to the US nuclear program and military plans.
Trump, who is the Republican frontrunner for his party's presidential nomination in 2024, denies any wrongdoing. However, some analysts say that the former US president is facing severe legal jeopardy if the charges in the extensive indictment can be proven. He is due in court in Miami, Florida on Tuesday – the day before his 77th birthday.
You can share this story on social media: