Workers killed in Turkish munitions factory blast
Reports indicate the explosion was caused by a chemical reaction during the production of dynamite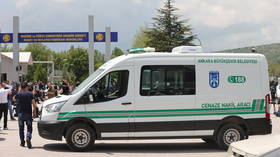 Five people were killed in a blast on Saturday at an explosives plant on the outskirts of the Turkish capital, officials have confirmed.
"An explosion occurred at the MKE Rocket and Explosive Factory in [the] Elmadag district of Ankara," a statement from Türkiye's Defense Ministry said. "As a result of the explosion, five of our workers were martyred. A judicial and administrative investigation has been initiated regarding the incident."
The tragedy happened at around 8.45 am local time, The Washington Post reported, citing a statement to reporters from Ankara Governor Vasip Sahin. He added that the explosion was likely caused by a chemical reaction during the production of dynamite, and that the blast caused the collapse of a building, killing all of those inside.
Prosecutors have launched a formal investigation, Sahin added, echoing the statement from the Turkish Defense Ministry. The factory is located around 40 km (25 miles) east of Ankara.
A report from local television station NTV said grey smoke could be seen billowing from the plant as emergency services arrived at the scene. Some windows of nearby residences and commercial properties were damaged in the explosion, the report said.
Family members of workers at the plant began arriving at the scene soon afterwards, numerous reports say. Sahin told reporters that there are no workers who remain trapped or waiting to be rescued, and that further injuries are not expected.
The Tasnim News Agency has reported the fire resulting from the explosion has been brought under control.
Turkish President Recep Tayyip Erdogan was briefed on the blast by Defense Minister Yasar Guler, Turkish newspaper Daily Sabah reported on Saturday. Erdogan offered his condolences to the relatives of those who lost their lives.
You can share this story on social media: