European state 'suspends' its Moscow embassy
Iceland says the "current situation" means its continued diplomatic presence in Russia is not "viable"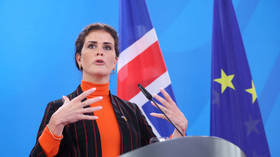 Iceland has announced that it's suspending operations at its Moscow embassy, arguing that maintaining a diplomatic presence in Russia makes no sense given the current state of bilateral relations.
Reykjavik has said the move does not mean cutting ties completely, and expressed hope that relations could improve at some point down the road.
In a statement published by Iceland's foreign ministry on Friday, diplomats said the embassy in the Russian capital would cease functioning on August 1.
Foreign Minister Thordis Kolbrun Reykfjord Gylfadottir described the decision as "not an easy" one, noting that Reykjavik and Moscow have maintained diplomatic relations since the island nation declared independence from Denmark back in 1944.
"However, the current situation simply does not make it viable for the small foreign service of Iceland to operate an embassy in Russia," the statement said.
It added that, "at the moment, commercial, cultural or political relations with Russia are at an all-time low," and keeping the Icelandic embassy in Moscow operational is "no longer justifiable."
The ministry, however, stressed that the suspension of the diplomatic mission "does not constitute a severance of diplomatic relations."
Gylfadottir said she hoped that "conditions will someday allow for us to have normal and fruitful relations with Russia," adding that this, however, "depends on decisions taken by the Kremlin."
Reykjavik has requested that Moscow, too, limit the operations of its embassy in Iceland and lower the level of diplomatic representation.
Soon after the start of Russia's military campaign against Ukraine last February, the Nordic nation condemned Moscow's actions and expressed support for Kiev. According to a statement on its foreign ministry's website, "Iceland aligns itself completely with EU sanctions imposed on Russia in response to the invasion."
Russia has, in turn, put Iceland on its list of "unfriendly nations."
Late last month, the German foreign ministry announced that it had requested that Russia vacate four of its five consulates in the European country by the end of the year.
Explaining the move, Berlin said it had come in response to Moscow having limited the German diplomatic presence in Russia, making the closure of several of its own consulates there imminent.
With relations between the West and Russia at rock bottom, multiple other countries have engaged in tit-for-tat expulsions of diplomatic staff with Moscow over the past year.
You can share this story on social media: