Assange to make final appeal
The UK wants the Wikileaks publisher extradited to the US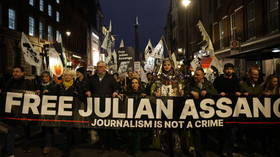 Julian Assange will make a new appeal to the High Court in the UK, his wife Stella said on Thursday, after it emerged that another judge has rejected his previous motion and cleared the way for handing the WikiLeaks founder over to the US.
"On Tuesday next week my husband Julian Assange will make a renewed application for appeal to the High Court," Stella Assange tweeted. "The matter will then proceed to a public hearing before two new judges at the High Court and we remain optimistic that we will prevail and that Julian will not be extradited to the United States where he faces charges that could result in him spending the rest of his life in a maximum security prison for publishing true information that revealed war crimes committed by the US government."
Assange's previous appeal of the June 2020 extradition order was rejected earlier this week. On June 6, Justice Jonathan Swift of the High Court of England and Wales rejected all eight grounds for his motion, giving the WikiLeaks publisher a five-day deadline to make his case to a two-judge panel.
Reporters Without Borders (RSF) condemned the ruling on Thursday, calling it "absurd" that a single judge could "permanently impact the climate for journalism around the world."
"The historical weight of what happens next cannot be overstated; it is time to put a stop to this relentless targeting of Assange and act instead to protect journalism and press freedom," said RSF's Rebecca Vincent, calling on US President Joe Biden to drop the charges against Assange and "allow for his release without further delay."
The US government has charged Assange under the Espionage Act, with conspiracy to hack Pentagon computers, in connection with the 2010 publication of Iraq and Afghanistan war diaries. If convicted, he faces up to 175 years behind bars.
Assange has maintained that the documents were provided to him by a whistleblower, and that their publication by WikiLeaks was journalism that is protected by the First Amendment to the US Constitution.
The indictment was unsealed following Assange's arrest in April 2019, after Ecuador revoked his asylum. He sought sanctuary in the Latin American country in 2012, claiming – accurately, as it turned out – that the US was trying to arrest him on a false pretext. Due to the British refusal to grant him safe passage, he spent almost seven years trapped in Ecuador's embassy in London. For the past four years, he has been held in the Belmarsh maximum-security prison, pending extradition proceedings.
According to RSF, next week's appeal will be Assange's last opportunity to fight extradition in the UK, unless he brings his case to the European Court of Human Rights.
You can share this story on social media: