Parents brawl with pro-gay activists at school board meeting (VIDEO)
A California school district has been accused of indoctrinating children with LGBTQ ideology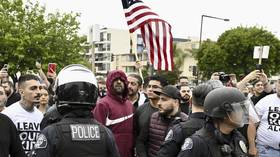 A school board meeting in Glendale, California, descended into violence on Tuesday as furious parents fought with 'Antifa' demonstrators while the board voted to recognize 'Pride Month.' The parents, many of them from Armenian backgrounds, have demanded that schools stop exposing their children to LGBTQ ideology.
As the Glendale Unified School District (GUSD) met to vote on the recognition of June as 'Pride Month,' protesters outside split into two camps. A group of predominantly Armenian-American parents faced off against masked 'Antifa' activists, with the parents holding American flags and placards reading "leave our kids alone," and the left-wingers waving rainbow flags.
The brawl began when "a small group of people engaged in behavior deemed unsafe and a risk to public safety," Glendale Police Department said in a statement. Three individuals were arrested, but "additional attempts to de-escalate the crowd failed," the department stated.
Police backup arrived shortly afterwards and the crowd was ordered to disperse. The anti-LGBTQ crowd then marched to city hall, before returning to the school board building. They were met by heavily armored riot police, and no further violence was reported.
Video showed both groups of protesters kicking, punching, and dragging each other, as police officers swung batons in a bid to break up the melee. Members of both sides claimed on social media that they were attacked first.
A physical brawl breaks out between anti-LGBTQ protestors and LGBTQ supporters outside the Glendale unified school board meeting in Los Angeles. pic.twitter.com/jcqML9NmAi

— Sergio Olmos (@MrOlmos) June 7, 2023
For several years now, GUSD teachers have been criticized for pushing LGBTQ ideology onto their students. An undercover video shot in 2019 showed a middle school teacher explaining how she and her husband bribed children with food to attend an LGBTQ club, while condemning Armenian and Korean parents who complained.
As protesters gathered outside GUSD headquarters on Tuesday, one Armenian father at the meeting described how his daughters are afraid to use their school's bathrooms since management began allowing so-called transgender girls – who are male – to use the same bathrooms as girls.
Aside from the district's transgender bathroom policies, parents have complained that their children are being taught about sexually inappropriate acts.
GUSD calls these claims "disinformation," but states that it follows California law in allowing children to use whatever bathroom matches their "gender identity," while not denying that students above the 10th grade have been shown explicit material.
You can share this story on social media: