Job center in Brussels offers porn career to unemployed
The questionnaire for out-of-work actors was deemed "scandalous" by local MPs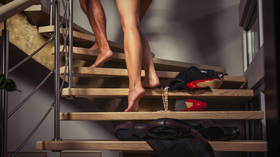 Unemployed artists and actors in the Belgian capital have started receiving questionnaires from a public employment service asking whether they are willing to star in porn movies, triggering the outrage of local MPs, local media reported last week.
The controversial question appears on the inquiry form distributed by Actiris, an employment agency based in Brussels. The sheet, in particular, asked job-seeking artists whether they want to play roles in short films, corporate movies, radio dramas, or in erotic or pornographic clips, while suggesting that they should express their feelings about those jobs by ticking off relevant emojis.
The form triggered a major public controversy, which was further fueled by the fact that the employment agency may impose penalties on those who refuse job offers.
Commenting on the matter, Actiris spokesman Romain Adam said the question was "not a proposal but a question," insisting that the form seeks to determine what artists want to do for a living. "There is nothing wrong with that," he stated.
However, Francoise De Smedt, who leads the left-wing Workers Party of Belgium, disagreed, describing the question as "scandalous." "This is a public service that must help job-seekers find decent jobs," she said. "They have no business being confronted with such questions, not to mention the embarrassment this must cause Actiris advisers."
The sentiment was shared by some of the interviewed artists, with one drama graduate telling RTL info that "we don't learn pornography in school," while pointing out that some of her colleagues may be enticed by this option and eventually find themselves mired in porn industry with "generally very deplorable" working conditions.
In this vein, the Workers Party of Belgium called for the question to be immediately removed from the form. However, the Actiris spokesperson said that it was a "political issue," adding that "if it is decided at the political level that this question should be removed, we will do so."
You can share this story on social media: