Swiss MPs make decision on re-exporting weapons to Ukraine
The lower house of the country's parliament opposed a bill that would allow such shipments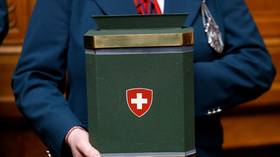 The lower house of Switzerland's parliament has voted against a proposed amendment to the national War Materiel Act that would allow Swiss weapons to be re-exported to Ukraine from third countries. The US and several European nations have repeatedly criticized Bern for its refusal to play a more active role in supporting Kiev.
In the vote on Thursday, 98 members of the National Council opposed the so-called 'Lex Ukraine', with 75 in favor. The initiative proposed by the lower chamber's security policy committee in January is now off the table as the corresponding commission of the upper house has already shot it down.
The rejected legislation called for a temporary waiver until the end of 2025 that would have allowed the handover of Swiss-made weapons specifically to Ukraine.
Several lawmakers who voted against the initiative told local media that the move would have undermined Switzerland's long-standing neutrality.
In March, the National Council actually gave the green light for Swiss-made weapons to be re-exported to Ukraine, with one crucial caveat – the UN Security Council should declare Russia's actions in Ukraine as an aggressive war in breach of international law. This, however, is highly unlikely to happen as long as Moscow has a veto.
While the 'Lex Ukraine' is no longer under consideration, several similar motions have been put forward.
Meanwhile, the Neue Zurcher Zeitung (NZZ) newspaper reported in March that the Swiss government was looking into how several Swiss-made Eagle armored vehicles had ended up in Ukraine.
At least two such cars were photographed in different locations along the frontline.
According to the article, authorities in Bern were investigating an unnamed German company that might have been involved.
Switzerland's staunch adherence to its neutrality has come under fire from some politicians at home, as well as major Western powers.
The US has reportedly been putting pressure on the Alpine nation to change its tack, with Ambassador Scott Miller telling the local press that the re-export ban only benefits "the aggressor."
You can share this story on social media: