Pentagon cancels Air Force drag show – media
Military officials have refused the use of taxpayer funds to hold drag show performances on a Nevada installation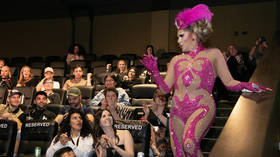 The Pentagon has called off a drag show which was scheduled to take place at an Air Force base in Nevada to mark the beginning of Pride Month on June 1, according to a Wednesday report by NBC News, citing US Defense Force officials.
The event, which had been signed-off on by US Air Force leadership, was subsequently scrapped on the orders of Defense Secretary Lloyd Austin and Chairman of the Joint Chiefs of Staff Mark Milley, who informed the organizers that it was not Pentagon policy to approve funding for drag shows to take place on Air Force installations.
They would instead be permitted to hold the event off-base, an Air Force spokesperson announced. The performance was to be the third annual drag show held at Nellis Air Force Base in recognition of LGBT+ members of the US armed services.
At a Congressional hearing in March, Republican lawmaker Matt Gaetz questioned Austin and Milley about reports of drag shows taking place at various US Air Force bases, including in Nevada, Virginia, Montana, and Germany – prompting both officials to express their opposition to Department of Defense taxpayer funds being used to produce drag shows.
"Consistent with Secretary Austin's congressional testimony, the Air Force will not host drag events at its installations or facilities. Commanders have been directed to either cancel or relocate these events to an off-base location," an Air Force official said in a statement to NBC News in comments published on Wednesday.
Austin has previously indicated that he is in favor of Pride Month being celebrated in the military. "LGBTQ+ citizens have fought to defend our rights and freedoms from the founding of our nation to the Civil War," he said in 2021. However, in March, Austin told Gaetz that "drag shows are not something the Defense Department supports or funds."
Drag shows have become a hot-button topic in some US states in recent months, with several Conservative lawmakers proposing legislation to outlaw or restrict such performances.
The US military has a long history of drag show performances, which were commonplace among soldiers in the World War II era as a means of boosting morale. Pride Month, which celebrates the impact made by LGBTQ individuals in society, was popularized following a series of gay liberation riots in the United States in the late 1960s. It runs from June 1 to June 30.
You can share this story on social media: