Trump pledges to use US military against drug cartels – Fox
The presidential hopeful declared he would seek the death penalty for drug and human traffickers, if elected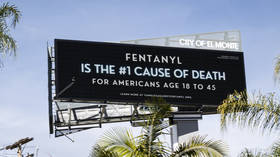 Republican presidential frontrunner Donald Trump would send US military assets to fight the drug cartels south of the Mexican border, he claimed in a campaign video seen by Fox News on Thursday.
Trump outlined a plan to deploy US forces to "inflict maximum damage" on the criminal networks, adding that he would impose a naval embargo on the cartels while securing the "full cooperation" of neighboring governments to "dismantle" regional drug- and people-smuggling networks.
The former president promised to lean on Congress to adopt the death penalty for drug dealers and human traffickers, while pushing federal authorities to target gangs and organized crime groups responsible for the street-level drug trade.
Fentanyl would be permanently listed as a federal controlled substance under a second Trump presidency, he continued, warning that China would "pay a steep price" if it failed to "clamp down" on selling the chemical precursors used to make the drug. He claimed he had had "a deal worked out with President Xi" in which "they weren't going to be sending any more, and they were going to impose the death penalty on those that made it in China."
"When I am back in the White House, I will take action on day one to end this horrific plague and save American lives," Trump declared in the video, contrasting his achievements to those of Democratic rival Joe Biden, whom he claimed had walked away from the deal he made with Beijing as well as his accomplishments with regard to the border.
"Under Joe Biden, our hard-won progress has been surrendered, along with the surrender of our southern border," the Republican candidate lamented, blaming the incumbent for "fentanyl and other ultra-deadly poisons… stealing more than 100,000 American lives every single year."
In addition to punishing dealers, Trump has proposed increasing federal funding for "faith-based" counseling and rehab programs for drug addicts, and suggested family members of addicts should be able to take leave from work in order to care for their loved ones.
Trump is far from the only member of his party to suggest sending the US military to fight drug cartels, an idea Mexican President Andres Manuel Lopes Obrador (AMLO) has staunchly opposed as a violation of Mexican sovereignty.
Fentanyl seizures at the US southern border more than tripled between 2020 and 2022, and 2023's numbers have already outstripped last year's with six months left on the calendar. The number of fentanyl overdose deaths has jumped 94% since 2019, and it remains the leading cause of death among Americans aged 18 to 45.
You can share this story on social media: