UK anti-terror police detain Grayzone journalist
Officers interrogated Kit Klarenberg for five hours about his political views and reporting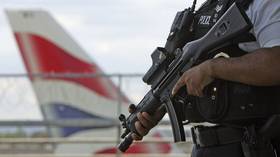 Journalist Kit Klarenberg, a UK citizen, was detained by British authorities and grilled on his political reporting and alleged ties with Russia, Grayzone reported on Wednesday.
Klarenberg, who has written for numerous outlets including RT, and is known for his exposes of dark British and US intelligence service secrets, often using leaked or unclassified documents, was reportedly approached by six plain-clothes counter-terror officers immediately after his plane touched down in London's Luton airport earlier this month. He was traveling from Belgrade, Serbia, where he currently resides.
Grayzone reports that the journalist was then escorted to a room where police confiscated all his electronic devices, bank cards, camera memory cards and sims, took his fingerprints and DNA, took photographs and subjected him to a five-hour long interrogation, threatening arrest if he refused to cooperate.
In the interrogation room, Klarenberg was allegedly grilled on a number of issues, including if he had any foreign property, why he chose to live in Serbia and how much he paid for rent. He was also questioned about his journalistic work, which outlets he wrote for, how much he was paid by Grayzone and how often, into which bank account he was paid, and how much contact he had with Max Blumenthal, the editor of the website.
The counter-terrorism officers then pressed the journalist on his alleged ties to Russia, whether Grayzone had an agreement with Russian security services to publish hacked materials, whether Klarenberg had worked with any Russian intelligence officers or been in touch with people connected to Russian state media, and whether Grayzone had been sponsored by Russia.
According to the outlet, Police also probed Klarenberg on his political affiliations and beliefs, involvement in activist causes, his opinion of the Russian government and the situation in Ukraine.
After the officers appeared to have run out of questions, Klarenberg says he was let go but told that he remained under investigation. A week after his detention, police sent back his tablet and two memory cards, but kept one old SD card on the grounds that it may be "relevant to criminal proceedings."
As noted by Grayzone, Klarenberg's sudden interrogation could be linked to the journalist's high-profile reports on British and US intelligence intrigues. In the past year Klarenberg revealed how Tory national security hardliners supposedly exploited Brexit and installed Boris Johnson as prime minister. In October 2022, he exposed the UK's alleged plans to bomb the Kerch Bridge connecting Crimea to the Russian Federation. Last month he also reported on unclassified documents that suggested that two 9/11 hijackers had been recruits for a joint CIA-Saudi intelligence operation.
You can share this story on social media: