DeSantis vows to 'destroy leftism' in US
The Florida governor promised his constituents he would do what former president Donald Trump couldn't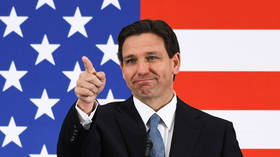 Florida Governor Ron DeSantis vowed to wipe out the Left if elected president of the US in 2024 during an interview with Fox & Friends on Monday.
"I will defeat leftism in this country and leave woke ideology on the dustbin of history [sic]," the Republican candidate promised in response to a question from one of the hosts regarding why he didn't simply wait until former president and Republican frontrunner Donald Trump finished what his supporters assume would be an easy second term to win without the Florida governor's interference.
Boasting about his "ability to win huge swathes of voters that Republicans typically can't win while also delivering the boldest agenda anywhere in the country," DeSantis vowed to not only triumph over incumbent Joe Biden but to serve two terms in office as president.
He also referenced his lawfare crusade against Disney, reminding his hosts that Trump had taken the side of the entertainment giant and declaring, "A multibillion-dollar company that sexualizes children is not consistent with the values of Florida."
The Republican candidate has attracted considerable conservative support by depicting himself as a moral crusader against the rising tides of wokeness, pushing back against diversity, equity and inclusion initiatives, critical race theory and gender ideology in schools after winning the loyalty of Floridians by keeping their state largely open during the Covid-19 pandemic.
However, he has struggled to set himself apart from Trump ideologically, so much so that political ads his campaign released when he was running for governor lightly mocked his platform's resemblance to that of the 45th president. His decision to run for president has also polarized Republicans living in Florida, some of whom believe he is prioritizing his national campaign over finishing out his second term as governor.
DeSantis launched his campaign last week in a Twitter Spaces event widely panned as a failure, though the technical difficulties that plagued the event were presumably no fault of the candidate's. On Tuesday, he followed up with a real-world launch in Iowa, the site of the first primary of the election season.
A poll published on Friday revealed Trump is still the odds-on favorite for the Republican nomination, with 43% of likely primary voters favoring the former president. DeSantis trails with 18%, and South Carolina Senator Tim Scott, who also announced his candidacy last week, is gaining on the Florida governor with 12% of the vote. Another 10% favored former South Carolina Governor Nikki Haley.
You can share this story on social media: