US to announce more Russia sanctions
Secretary of State Antony Blinken said the new measures will target drones and "disinformation"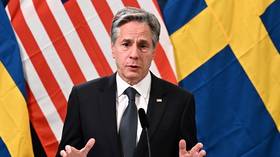 The US will unveil a new round of Russia-related sanctions on Wednesday, Secretary of State Antony Blinken has told reporters. Washington's latest restrictions will target the allegedly Iranian-built drones that have been used to devastating effect in Ukraine, Blinken claimed.
Speaking to reporters in Sweden on Tuesday, Blinken said that the new sanctions would impose "export controls on the technology that's found in Iranian drones used to target Ukrainian civilians and civilian infrastructure."
The sanctions package will include additional measures "to counter Russian misinformation and disinformation, [and] to protect human rights defenders online," Blinken continued, without elaborating further.
By "Iranian drones," Blinken was likely referring to 'Shahed' kamikaze drones, which Ukraine and its Western backers claim have been used in Russia's airstrikes. Moscow and Tehran deny these claims, with the Kremlin saying that it only uses a Russian-made variant of the Shahed in its military campaign.
Russia's drones have proven invaluable in suppressing Ukraine's air defenses and striking military and infrastructure targets, and often evade Kiev's technically-advanced Western anti-air missiles. Russian forces used dozens of drones and missiles in recent days to hit Ukrainian airfields, ammunition dumps, and "decision-making centers" responsible for plotting terrorist attacks within Russia.
The US has already sanctioned one Chinese national and five companies for allegedly supplying Tehran with aerospace components for the Shahed drones.
Prior to his announcement, Blinken unveiled two separate sanctions packages on Tuesday, one targeting Mexican and Chinese nationals accused of producing counterfeit drugs, and another aimed at Syrian money transfer firms accused of providing dollars to Bashar Assad's government.
In a statement on Monday, Blinken said that the State Department was weighing whether to sanction Ugandan officials in response to a recently-passed bill that provides for the death penalty in cases of "aggravated homosexuality."
You can share this story on social media: