Anti-Target rap hits #2 on iTunes
The song takes aim at the retailer's controversial Pride Month kids' collection, which triggered a nationwide boycott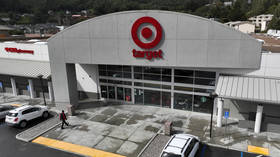 The song "Boycott Target" by conservative rappers Forgiato Blow and Jimmy Levy hit #2 on iTunes' hip-hop chart on Monday, riding a wave of conservative backlash against the big-box retailer over its Pride Month merchandise aimed at children.
The song features repetitive lyrics about how Target is "targeting your kids" with propaganda and demands an end to the LGBTQ "agenda." Its music video shows the rappers sauntering around a Target store mocking LGBTQ-themed merchandise (including rainbow-labeled bottles of alcohol and 'inclusive' tampons) and surplus Bud Light.
As of Monday, the clip had racked up 4.3 million views on Twitter alone. A retweet from Representative Marjorie Taylor Greene (R-Georgia) helped draw attention to the single, as has Blow's relentless promotion on social media.
Blow (real name Kurt Jantz), who tweets as "Trump's Nephew," refers to himself as the "mayor of MAGAville," and has a tattoo of the former US president on his thigh, has made a career out of right-wing hip-hop, releasing dozens of songs lionizing conservative figures including but not limited to Donald Trump. He is not actually the real estate mogul's nephew.
Calls to boycott Target arose earlier this month as customers protested the retail chain's in-store displays for Pride Month – an annual LGBTQ event held in June. In addition to shirts with slogans like "live laugh lesbian" and "trans people will always exist," a "tuck-friendly swimsuit" designed to facilitate concealment of the male genitalia attracted negative attention, although a spokesperson for the retailer insisted the "tuck-friendly" label was only present on adult sizes.
Target management reportedly instructed staff at stores in multiple southern states to move the Pride merchandise to the back of the store following the first inklings of discontent, hoping to avoid the fate of Budweiser, which has lost millions of dollars after a Bud Light ad campaign starring controversial trans influencer Dylan Mulvaney outraged the beer's core demographic.
Target stores in at least three states claimed to have received bomb threats, with one attacker declaring the bombs they supposedly planted at five locations to be retribution for the retailer "turning their back on the LGBT community" by removing the Pride displays.
"Boycott Target" is not the first "MAGA rap" song to top the charts despite thumbing its nose at the liberal bent of the music establishment. In 2021, rapper Loza Alexander made it to #1 on iTunes' hip-hop chart and #2 on the overall pop chart with a song titled "Let's Go Brandon!" — named for a NBC sports reporter's efforts to spin a NASCAR crowd's on-air chants of "F*** Joe Biden!"
You can share this story on social media: