Victorious Erdogan promises to fulfill pledge to Putin
The Turkish president vowed to open a gas hub following the Russian leader's suggestion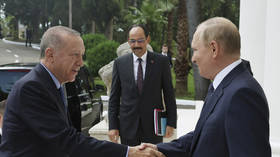 Turkish President Recep Tayyip Erdogan has pledged to complete a gas distribution hub to pipe Russian natural gas into Europe via Türkiye. Erdogan said that the project, first suggested by Russian President Vladimir Putin, will be built with Russian assistance.
"We will strengthen Türkiye's position as an international hub even further," Erdogan said in a speech on Monday. "Actually, Mr. Putin mentioned again the creation of the hub in the region of Thrace in Türkiye in his congratulatory message. We will do that together with them. There will be a hub in Thrace."
Erdogan won a third term in office on Sunday, defeating rival Kemal Kilicdaroglu in a runoff election. In a congratulatory message to Erdogan, Putin praised the Turkish president's "personal contribution to the strengthening of friendly Russian-Turkish relations," and hailed the construction of Türkiye's first nuclear power plant and the creation of the gas hub as two significant joint projects.
Putin first proposed the gas hub in October, stating that Moscow could redirect gas transit from the two sabotaged Nord Stream pipelines to Türkiye, from where it could be used domestically and sold on to European consumers. The hub would be built in the Turkish region of Eastern Thrace, which already receives gas from Russia via the 930-kilometer TurkStream pipeline.
Erdogan welcomed the idea, and Turkish Energy Minister Fatih Donmez said in February that the hub could begin operating as soon as this year.
The plan has faced criticism in the West, with US State Department spokesman Vedant Patel urging European countries not to purchase Russian gas via Türkiye, and to "take steps to diversify their energy sources, to reduce energy reliance on Russia" instead. French President Emmanuel Macron claimed that the proposal "makes no sense," given that the EU aims to wean itself off Russian energy.
Under Erdogan's leadership, Türkiye is the only member of NATO that has not sanctioned Russia, and Ankara and Moscow have strengthened their trade and diplomatic links since the conflict in Ukraine began. Erdogan describes his foreign policy as "balanced," and has sought to build Türkiye into a regional energy trading power and a middleman between producers in the east – such as Russia and Azerbaijan – and buyers in the West.
You can share this story on social media: