Norway warns against approaching 'spy' whale
The white beluga dubbed 'Hvaldimir' was first spotted in 2019 and thought to be Russian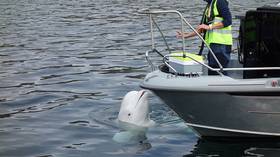 The Norwegian Directorate of Fisheries has warned the residents of Oslo to keep their distance from "Hvaldimir," the white whale who appears to have chosen the fjord as his permanent home after traveling down the coast of Norway in 2019.
"We especially encourage people in boats to keep a good distance to avoid the whale being injured or, in the worst case, killed by boat traffic," fisheries director Frank Bakke-Jensen said on Wednesday.
Norway considers beluga whales a protected species. Bakke-Jensen believes the whale "now resides in the inner Oslofjord," a densely populated area that raises the risk of injury due to human contact. He said that Hvaldimir has suffered "minor injuries" from contact with boats before.
The whale first attracted attention in April 2019, when it appeared on the northern coast of Norway and kept approaching fishermen's boats. The marine mammal had worn a camera harness labeled 'Equipment St. Petersburg', leading to speculation that it was a "Russian spy."
The friendly whale was soon dubbed Hvaldimir, after the Norwegian word for whale and the play on the name of Russian President Vladimir Putin.
One Norwegian outlet reported a theory that Hvaldimir was in fact Russian – a beluga named Semyon, from a marine sanctuary training whales to play with children for therapy purposes. While that would explain the whale's friendliness to humans, no one has ever been able to confirm the claim.
That has not stopped the online jokes about Hvaldimir's spy mission for Moscow, especially since the USS Gerald Ford, a US Navy nuclear-powered supercarrier, has also just arrived at Oslo harbor.
Norwegian authorities seem content to let Hvaldimir roam free for the time being.
"We have always communicated that the whale in question is a free-living animal and we see no reason to capture it and put it behind bars," said Bakke-Jensen. "Now that it's in a more vulnerable area and access to food may be limited, we will consider different measures. But it is too early to say anything specific about that yet."
You can share this story on social media: