Anti-Russia resolution on Ukraine gets limited support at WHO
The health-emergency document was nonetheless adopted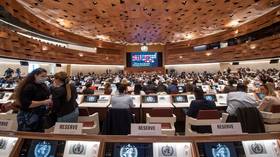 The World Health Organization (WHO) on Wednesday adopted a draft anti-Russia resolution on Ukraine, condemning the ongoing special military operation there and accusing Moscow of targeting the country's healthcare services.
The resolution, titled 'Health emergency in Ukraine and refugee-receiving and -hosting countries, stemming from the Russian Federation's aggression' was co-sponsored by all EU members except Hungary, and by several other nations, including the US and the UK. The document was backed by 80 out of 194 member states of the global health watchdog, with 52 abstaining, nine voting against, and 36 absent during the vote for various reasons.
The draft resolution squarely blames Russia for a "continued health emergency" in Ukraine and in countries hosting refugees, accusing Moscow of "attacks on health care facilities," as well as "widespread attacks on civilians and critical civilian infrastructure" that had allegedly resulted in "heavy casualties." The stance effectively falls in line with the narrative that Kiev has pushed, while Moscow has repeatedly said it targets exclusively military or dual-use facilities in the country.
Moreover, Russia has repeatedly accused Ukraine of stationing troops at civilian facilities such as schools or hospitals, which turns these into legitimate targets. At the same time, Kiev's forces have been routinely shelling civilian installations, including schools and hospitals, in Russia's cities near frontlines.
During the WHO assembly, a Ukrainian representative claimed the hostilities have left some 1,256 health facilities damaged. Some 177 of these have been completely destroyed, with some 237 health workers and patients killed or injured. Apart from them, the country has lost over 20% of its ambulance fleet, the representative claimed.
Apart from adopting the anti-Russia resolution, the global health body dismissed an alternative, politically-neutral document tabled by Russia, titled 'Health emergency in and around Ukraine.' Some 62 members voted against it, another 61 abstained, with only 13 supporting it. The rest of the member states were not represented during the vote on the alternative document either.
Russia has condemned the WHO's decision and those countries that pushed through the resolution, stating that the action has merely become the latest attempt to "wrongly politicize" the supposedly-neutral international body.
"The provision of medical care should be free of politics, so should the WHO," a Russian representative told the organization. "Western countries are bringing politics into this organization."
You can share this story on social media: