Lost documents leave world's largest nuclear power plant in limbo
An employee has placed Japan's Kashiwazaki-Kariwa facility under further scrutiny after leaving security papers on the roof of a car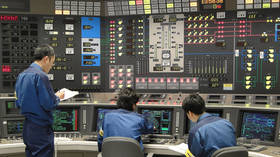 The reopening of the world's biggest nuclear power plant, Japan's Kashiwazaki-Kariwa, has been placed in further doubt after an employee working from home lost a pile of documents by leaving them on top of a car.
Kashiwazaki-Kariwa was initially shut down in the wake of the 2011 Fukushima disaster, and the Japanese nuclear watchdog extended a ban on operations earlier this week, citing safety concerns.
In a statement released on Monday, the plant's operator, Tokyo Electric Power Co (Tepco), revealed that the employee in question had lost a stack of papers by placing them on a car roof and driving off.
The facility found out about the incident after a local resident discovered some of the documents, which detailed how to deal with fires and floods. However, 38 pages are still unaccounted for.
Tepco said it had issued warnings to the employee and a manager, adding that it would enforce stringent rules on taking documents and information off-site.
After the 2011 accident at Fukushima, the Japanese government decided to take all 54 of the nation's commercial nuclear plants offline for maintenance and structural review.
To date, only 10 units have been restarted, with 18 more expected to resume operations by 2030.
Also on Monday, Japan's Nuclear Regulation Authority announced the decision to keep an effective ban in place on Kashiwazaki-Kariwa's operations. The watchdog stressed that the movement of fuel to the facility will remain prohibited until Tepco demonstrates full compliance with a list of 27 safety criteria.
While the situation at two of the seven units at Kashiwazaki-Kariwa was deemed satisfactory, the authorities expressed concern over the power plant's management, in particular its security arrangements.
According to Japan's NHK media outlet, the regulator flagged lax provisions for anti-terrorism measures as well as unauthorized entry into restricted areas. The watchdog also reportedly pointed to the inadequacy of security monitoring equipment required in the event of adverse weather conditions.
You can share this story on social media: