US reacts to Israeli order greenlighting illegal settlements
The Biden administration claimed to be 'deeply troubled' by the Israeli military's latest moves in the West Bank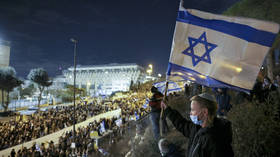 The US State Department chided Israel for issuing an order seemingly giving the go-ahead to establishing a permanent Jewish-only settlement in the West Bank outpost of Homesh on Sunday, reminding its Middle Eastern ally that such settlements are illegal.
Claiming to be "deeply troubled by the Israeli government's order that allows its citizens to establish a permanent presence in the Homesh outpost in the northern West Bank," State Department spokesman Matthew Miller pointed out in a statement released on Sunday that the settlement was "illegally built on private Palestinian land" even under Israeli law.
Specifically, Miller said, the order, issued by the chief of the Israeli military's Central Command on Thursday, violates commitments made by the government in 2004 and more recently to the administration of US President Joe Biden. The order officially allows Israelis to enter the outpost, opening the door to the establishment of a permanent – but still illegal – settlement.
An unnamed Israeli official told Reuters the order was only meant to allow Israelis to continue attending a religious school in Homesh, insisting there were no ulterior motives relating to rebuilding the settlement or otherwise expanding the Israeli presence on Palestinian land – a claim echoed in a tweet by Finance Minister Bezalel Smotrich.
Miller also expressed concern about Sunday's "provocative visit" by Israeli Security Minister Itamar Ben-Gvir to the al-Aqsa mosque in Jerusalem, criticizing the official's "inflammatory rhetoric."
Ben-Gvir's speech, in which he declared his government was "in charge" of "Jerusalem and all of the Land of Israel," came on the heels of a deliberately provocative "Flag March" by far-right Israeli nationalists through the Arab quarter of Jerusalem, an event that saw numerous attacks on bystanders including journalists trying to cover the event.
The State Department spokesman stressed that al-Aqsa, a holy site to Muslims, Christians, and Jews alike, "should not be used for political purposes."
While the State Department and the Biden administration's official line has been to discourage Israel from expanding and formalizing its illegal settlements in the West Bank, in practice this has not translated to policy changes toward West Jerusalem. Foreign aid continues to flow with no strings attached, totaling $3.8 billion last year.
Former President Donald Trump's secretary of state Mike Pompeo declared in 2020 that it was up to Israel whether it wanted to occupy the West Bank or not, ignoring the settlements' continued illegality under international law. While the Biden administration has reversed many of its predecessor's unilateral moves, it has not addressed what many in Biden's own party have condemned as Trump's appeasement of the Israeli far-right.
You can share this story on social media: