Conservatives fall short of outright majority in Greek election
Prime Minister Kyriakos Mitsotakis has signaled that a second vote is likely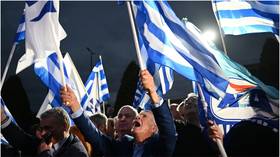 The ruling conservative New Democracy party scored a landslide victory in the Greek parliamentary election on Sunday, but failed to win an outright majority, which is required to form a government.
With over 96% of votes counted, Prime Minister Kyriakos Mitsotakis' New Democracy (ND) is leading with 40.79%. The left-wing Syriza party is trailing behind with 20.06%. According to the newspaper Kathimerini, the country has not seen a 20-point victory margin in a parliamentary election since 1974.
Despite the impressive performance, ND failed to secure a majority in the 300-seat Hellenic Parliament, which means it cannot form a government on its own. Mitsotakis has signaled that he would seek a second election rather than search for a coalition partner. If announced, the second vote would likely take place in late June or early July, according to Greek media.
"I will follow all constitutional procedures, but [maintain] my firm view that the mathematics of proportional representation is akin to party horse-trading and results in a dead-end," Mitsotakis said on Sunday evening.
He stressed that "the political earthquake that occurred today" demands that conservatives "speed up the process" of consolidating their victory.
Syriza leader Alexis Tsipras, who served as prime minister between 2015 and 2019, admitted that the results were "exceptionally negative" for his party, but added that "the electoral cycle is not yet over." He also said that a new election is likely.
Campaigning was dominated by the economy and the growing cost of living, as well as several political scandals.
In January, Mitsotakis' cabinet survived a no-confidence vote put forward by the opposition after the government was accused of spying on political opponents. A month later, nearly 60 people died in a train collision in central Greece. The tragedy prompted more criticism of the government and led to the resignation of the transport minister.

You can share this story on social media: